On the day itself you can find the Live Blog here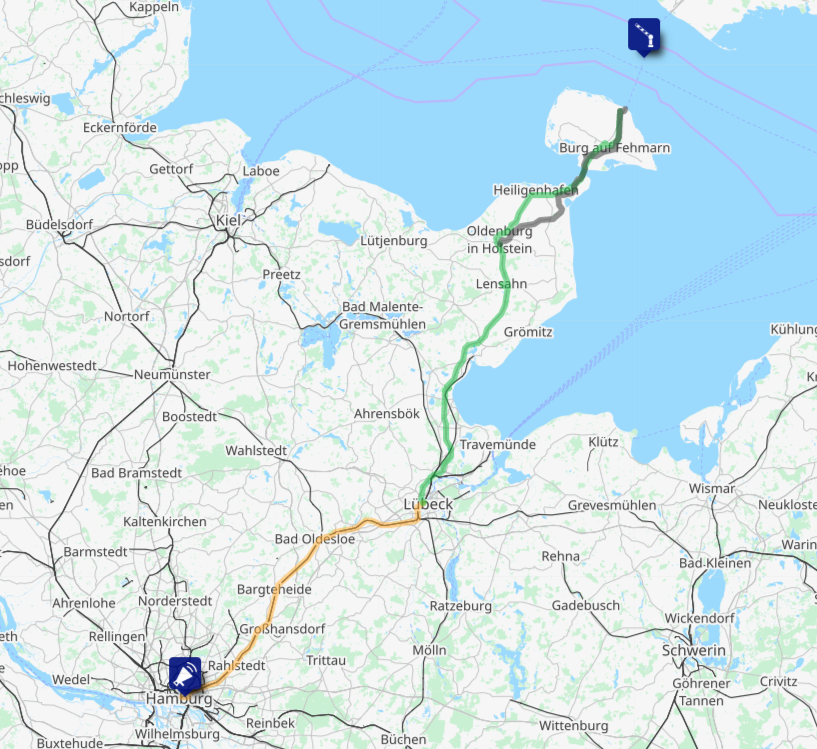 Please note: the definitive timetable for #CrossBorderRail 2023 is always the one in the Google Sheet. The full route map is on umap here.
The old route from Hamburg to København routed across Schleswig-Holstein via Lübeck and Oldenburg (Holstein) to the island of Fehmarn. Trains were then loaded onto ferries at Puttgarden for the crossing to Rødby. Now the ferry crossing is to be replaced by a tunnel to be opened at the end of this decade, and there will be new lines to connect the tunnel to mainline networks on both the Danish and German sides of the tunnel. In the meantime the old line has been taken out of service, and so that is why I am taking to my bike from Oldenburg to Puttgarden – to see the ongoing rail construction. A rail replacement bus will then convey me to Lübeck, before taking a single train to Hamburg. At the moment I do not know if I will have time to take the ferry to/from Rødby as well.
Borders crossed
(by boat) Puttgarden (DE) – Rødby (DK) – tunnel under construction
(tbc if I will take the boat to Rødby or not, or only stay on the German side)
Events
Hamburg – for details of events, please see the Events page
Transport
Trains – 1
Buses – 1
Bike legs – 1
Train-km – 62.6
Bus-km – 98.9
Bike-km – 37.6
Routes of bike legs can additionally be found on my Komoot page