On the day itself you can find the Live Blog here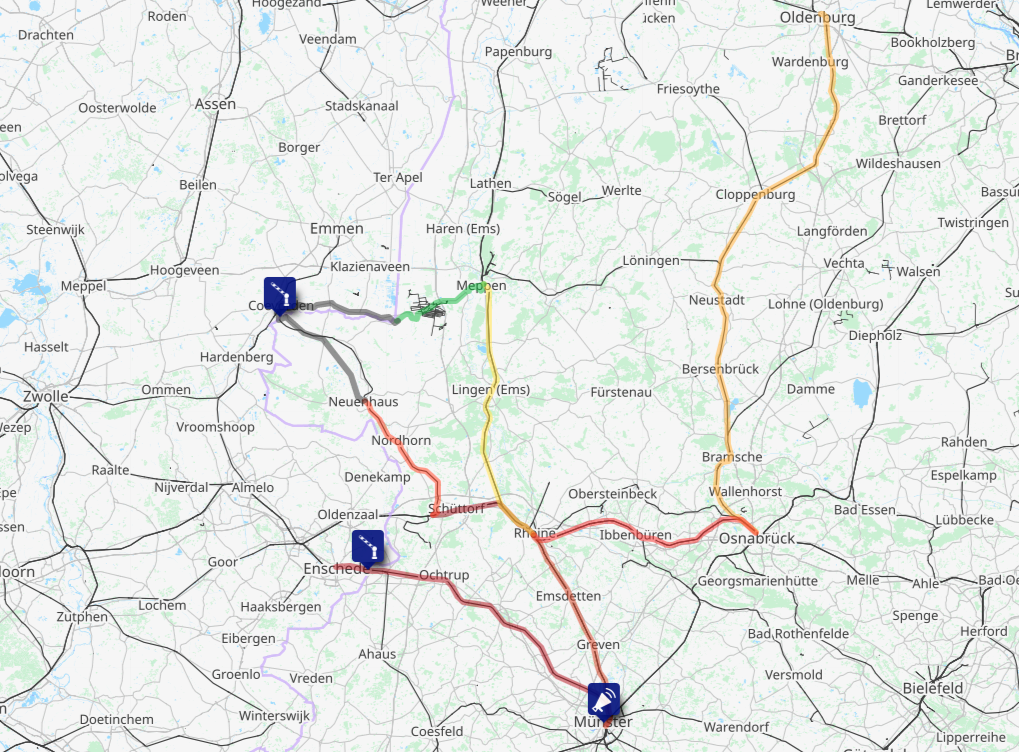 Please note: the definitive timetable for #CrossBorderRail 2023 is always the one in the Google Sheet. The full route map is on umap here.
A complicated day when looking at the map, but an interesting one on the ground!
After a complex route across Niedersachsen to Meppen, and then a bus to Bült(Twist) (crossing the old peat railway on the Rühlermoor), I will hop on my bike and cycle to Coevorden in Netherlands. Here there is an active line to Bad Bentheim (DE), but passenger trains currently only run on the Neuenhaus – Bad Bentheim section. Background about this line is here. There are ongoing efforts to open the whole line to passenger traffic, including re-activating the section south of Bad Bentheim to Gronau as well (see Day 04).
I will then take the train on the Neuenhaus-Bad Bentheim section, then go via Rheine to Münster for an event there, and then after the event take a late train to Enschede in Netherlands. This Münster-Enschede line – that is still a slow-ish single track diesel line – has been an unlikely success story, with passenger numbers exceeding expectations when it was re-opened a decade ago. The station at Enschede is nevertheless a bit weird – the Dutch network is physically divided from the German network by buffers. Through running is not possible.
Borders crossed
(by bike) Coevorden (NL) – Emlichheim (DE) – active line with no regular passenger traffic
(by train) Gronau (DE) – Enschede (NL) – active line with passenger traffic
(I also need to get into Netherlands from Germany, west of Meppen – but no train line is planned or ever ran here)
Events
Münster – for details of events, please see the Events page
Transport
Trains – 7
Buses – 1
Bike legs – 1
Train-km – 363.9
Bus-km – 22.3
Bike-km – 52.6
Routes of bike legs can additionally be found on my Komoot page