On the day itself you can find the Live Blog here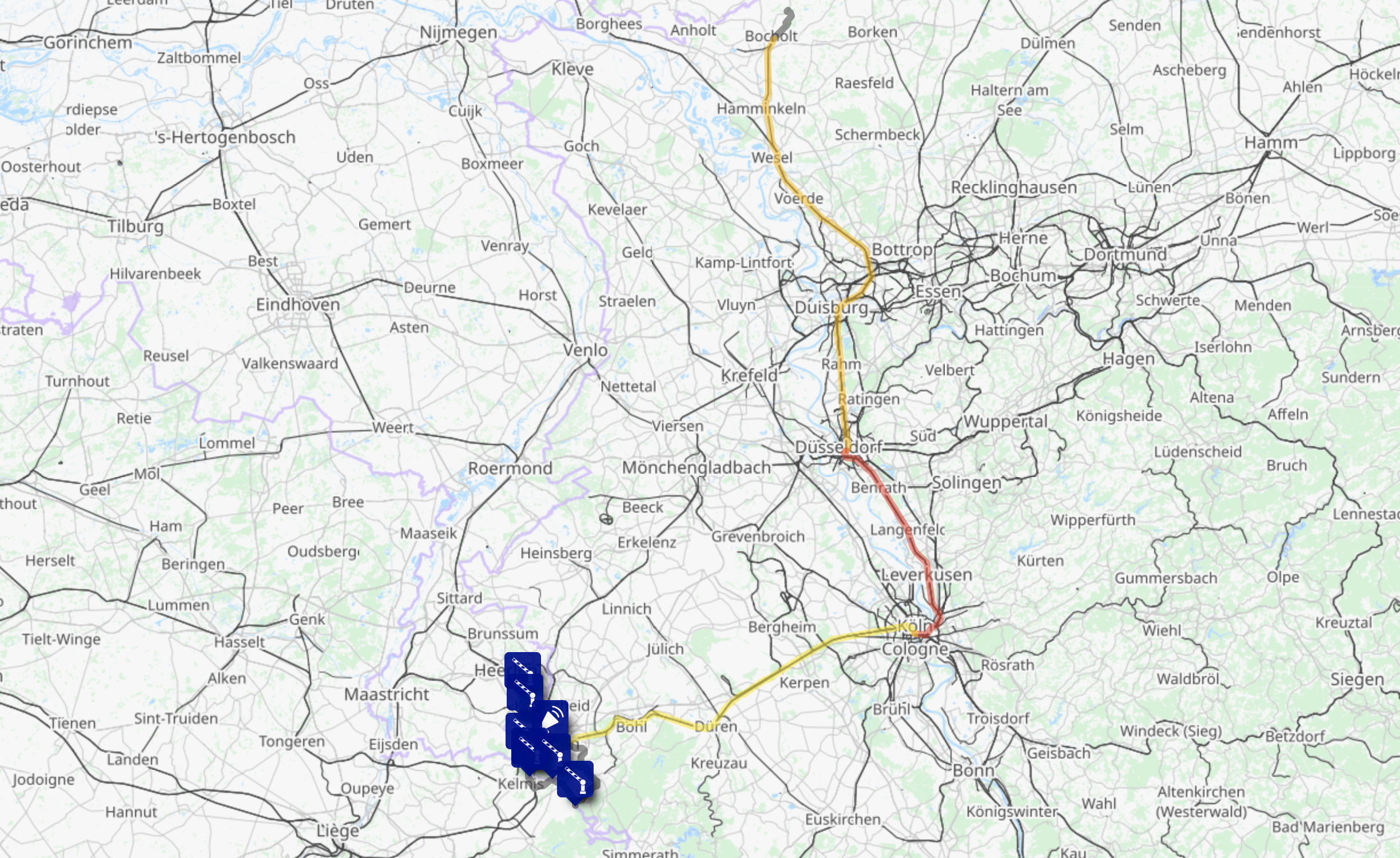 Please note: the definitive timetable for #CrossBorderRail 2023 is always the one in the Google Sheet. The full route map is on umap here.
A lot of cycling, and rather few trains. And LOTS of borders!
The day starts by bike – into Bocholt. Then keeps on the western side of the Ruhrgebiet, via Duisburg to Düsseldorf, Köln and Aachen. This was re-planned last minute due to a rail replacement bus service on the original route.
I'm back on the bike to explore at least 3 and possibly as many as 7 cross border lines. I am not sure what the prospects for running anything on Aachen-Vetschau (DE) – Bocholtz (NL) would be, and the plans (now mostly shelved) to build a new line Avantis (DE) – Spekholzerheide (NL) look strange to me – so I want to check it out. Aachen (DE) – Montzen (BE) is a heavily used freight line, but I see little purpose adding passenger trains there.
If I still have enough energy there are three dismantled cross border tramways, and one dismantled railway line further south – and with the advantage that going there takes me onto the famous Vennbahn cycle path back into Aachen.
Borders crossed
(by bike) Aachen (DE) – Montzen (BE) – active line with no regular passenger traffic
(by bike) Aachen-Vetschau (DE) – Bocholtz (NL) – active line with no regular passenger traffic
(by bike) Avantis (DE) – Spekholzerheide (NL) – planned line
(by bike, possibly) Eynatten (BE) – Ronheide (DE) – dismantled 1000mm gauge tramway
(by bike, possibly) Kelmis (BE) – Bildchen (DE) – dismantled 1000mm gauge tramway
(by bike, possibly) Moresnet (BE) – Preuswald (DE) – dismantled line
(by bike, possibly) Raeren (BE) – Sief (DE) – dismantled 1000mm gauge tramway
Events
Aachen – for details of events, please see the Events page
Transport
Trains – 3
Buses – 0
Bike legs – 2
Train-km – 141.7
Bus-km – 0
Bike-km – 71.3
Routes of bike legs can additionally be found on my Komoot page