On the day itself you can find the Live Blog here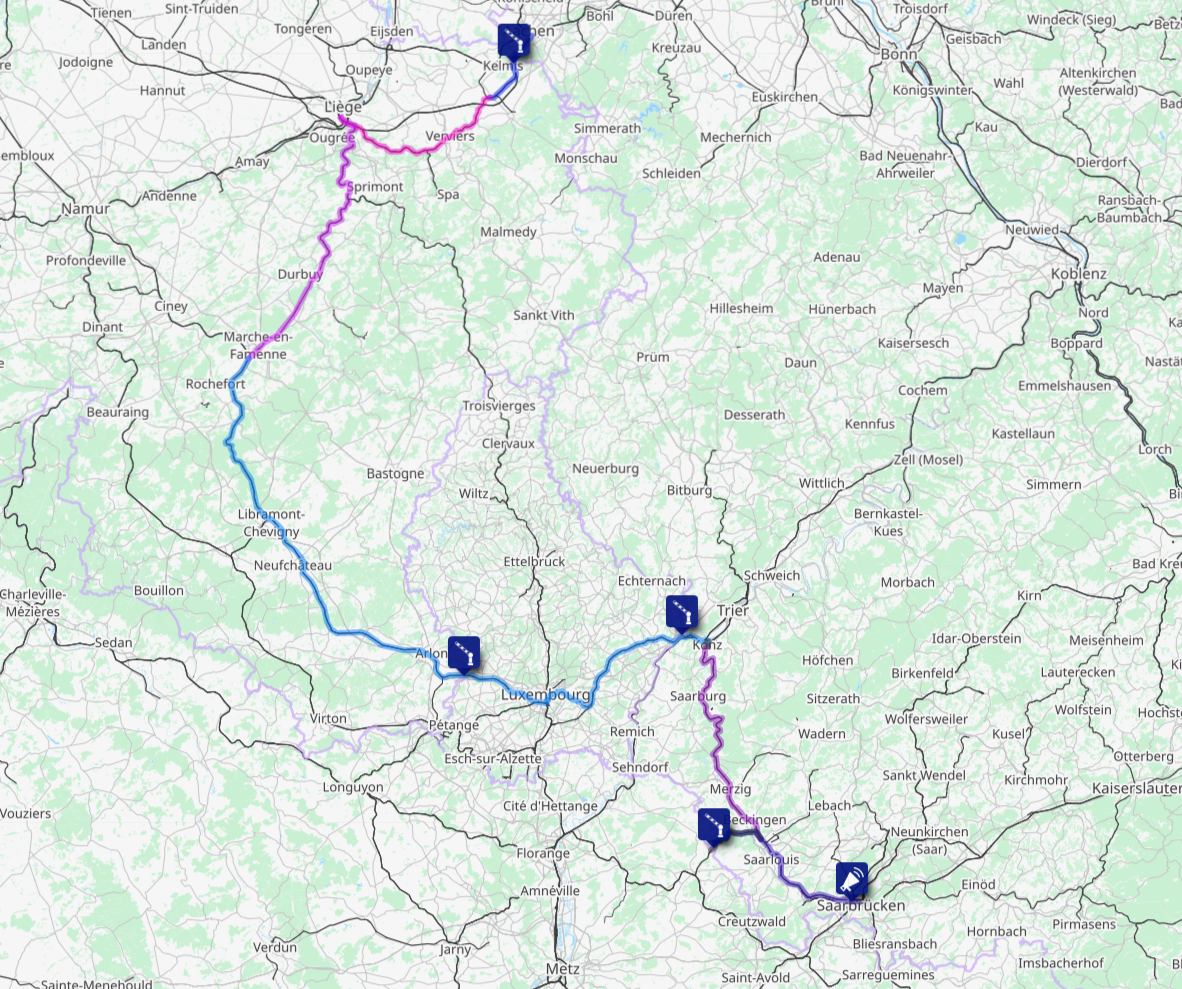 Please note: the definitive timetable for #CrossBorderRail 2023 is always the one in the Google Sheet. The full route map is on umap here.
More trains than bikes on Day 07! The day starts on the regional cross border service from Aachen to Welkenraedt – it's good that this train runs, but SNCB uses its oldest rolling stock for its cross border services! A short hop to Liège-Guillemins, but I do not have time to really admire the Calatrava designed station, as it's on to a regional train to Marloie. Here I had hoped to route into Luxembourg on the Gouvy-Clervaux line, but there are still works to repair a tunnel there. So instead I need to go from Marloie via Arlon to Luxembourg, and then change directly onto a train to Konz, close to Trier. For the hell of it I'm going between the two stations in Konz by bike, and then heading towards Saarland. A quick stop at Dillingen (Saar) will allow me to explore the line towards Bouzonville in France – the line is active, but only has passenger trains on the German side.
Borders crossed
(by train) Aachen (DE) – Welkenraedt (BE) – active line with passenger traffic
(by train) Arlon (BE) – Kleinbettingen (LU) – active line with passenger traffic
(by train) Wasserbillig (LU) – Konz (DE) – active line with passenger traffic
(by bike) Niedaltdorf (DE) – Bouzonville (FR) – active line with no regular passenger or freight traffic
Events
Saarbrücken – for details of events, please see the Events page
Transport
Trains – 8
Buses – 0
Bike legs – 2
Train-km – 365.3
Bus-km – 0
Bike-km – 18.3
Routes of bike legs can additionally be found on my Komoot page