On the day itself you can find the Live Blog here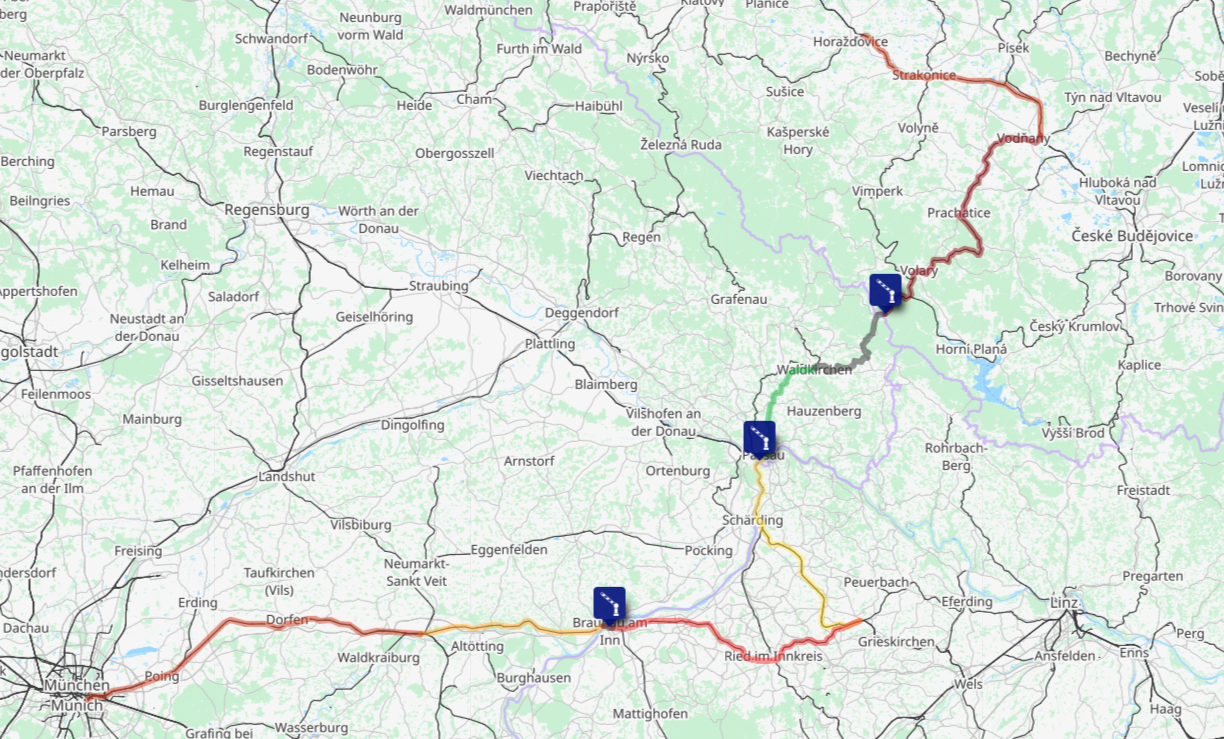 Please note: the definitive timetable for #CrossBorderRail 2023 is always the one in the Google Sheet. The full route map is on umap here.
The fastest route from München to Wien would run through Mühldorf and Simbach (Inn) to Linz, not the current route via Rosenheim and Salzburg. The problem is that the track from München to the border is still partially single track, and the vast majority of it is not even electrified. There have been ideas to improve this since the 1980s, that so far have come to rather little. So it makes sense to go and check it out.
Once on the Austrian side, it's regional trains through to Passau, crossing into Germany on the main line where ICE services from Frankfurt/Nürnberg cross when en route to Wien. This is a comparatively good cross border connection.
Then it's onto a bus to Waldkirchen – there is a railway line from Passau to Freyung via Waldkirchen – the Illztalbahn – but this runs only on weekends from mid-May, so too early for me. From Waldkirchen there used to be a line to Nové Údolí in Czechia, but this was dismantled and turned into a cycle lane – that I will take. It's one of the Michael Cramer 2015 missing links to re-instate, but it looks like a complex one to me.
At Nové Údolí it is back on the train – to Číčenice, and then finally to Horažďovice to end the day.
Borders crossed
(by train) Simbach (Inn) (DE) – Braunau am Inn (AT) – active line with passenger traffic
(by train) Wernstein (AT) – Passau (DE) – active line with passenger traffic
(by bike) Waldkirchen (DE) – Nové Údolí (CZ) – dismantled line
Events
None planned, but let me know if you want to say hello en route – for details of events, please see the Events page
Transport
Trains – 6
Buses – 1
Bike legs – 2
Train-km – 342.6
Bus-km – 27.1
Bike-km – 33.7
Routes of bike legs can additionally be found on my Komoot page