This should have been a nice day, arriving in northern Sweden on a night train. But it wasn't to be. Track works meant all the night trains to the north are not running, and most of the daytime trains are cancelled too. So it's a bus Umeå-Luleå, and then a train from there to to Haparanda (SE).
It is about 5km to cycle between Haparanda on the Swedish side of the border to Tornio-Itäinen on the Finnish side, passing the world's most northerly IKEA.
The opportunity to run genuine through trains Sweden-Finland is very limited, as Finland uses 1520mm broad gauge and Sweden 1435mm standard gauge, but plans are afoot to at least make sure the trains start and end at the same station in 2023 – and tracks do run across the border already. On the Swedish side trains have only recently been extended again from Boden to Haparanda, so things are progressing here. This is a missing service because track exists, but there are no passenger trains, and there are plans to run them in future.
| | |
| --- | --- |
| Day / Date | Sunday 19 June |
| Departure | Umeå |
| End | Night train en route to Helsinki |
| Trains | 1 |
| Rail km | 194 |
| Bike legs | 1 |
| Bike km | 5.8 |
| Borders crossed | SE-FI – Haparanda-Tornio |
| Events | No formal events, but maybe you'd like to say hello? – more about events en route here |
Data here is indicative. The Google Sheet for the trip is the always-updated definitive version.
On the day itself, live updates will be posted here.
The map below is an image of the route for this day. You can alternatively see access whole route with more controls on umap here.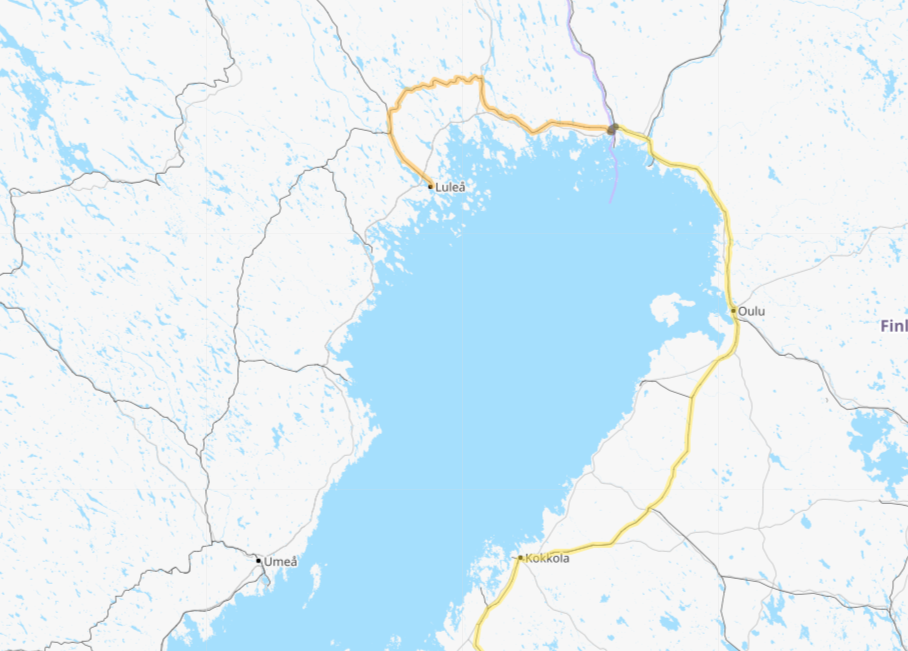 Images used in this post
Niko Hörkkö
Railroad bridge over Tornionjoki
June 27, 2016
CC BY-NC-ND 2.0
All other photos taken by Jon Worth, can be re-used under the same terms as the content on this site.