A very businesslike day, on good quality trains. After a morning meeting in Wien with activists, it's onto the EuroCity to Budapest Keleti (one of my favourite stations) – the route crosses into Hungary at Hegyeshalom (HU). This is a border with excellent long distance and regional trains. After a couple of hours early afternoon for a meeting in Budapest it's back westwards to Graz, that crosses into Austria at Szentgotthárd (HU). This border has improved in recent years and has good regional train connections, and some long distance trains. I will take either the direct service from Keleti to Graz (although that re-traces the route I took in the morning as far as Györ), or more likely the route from Deli station in Budapest via Vazprem to Szombathely – it takes longer, but might be more interesting – and the train is an old one with opening windows!
Data here is indicative. The Google Sheet for the trip is the always-updated definitive version.
On the day itself, live updates will be posted here.
The map below is an image of the route for this day. You can alternatively see access whole route with more controls on umap here.
Images used in this post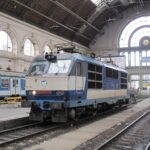 Phil Richards
08.05.11 Budapest Keleti pu. 350017
May 8, 2011
CC BY-SA 2.0
All other photos taken by Jon Worth, can be re-used under the same terms as the content on this site.