The infrastructure around Szeged is confusing – the focus seems to be on the recently introduced tram-train, meaning local services from the "other" Szeged station – Újszeged on the other side of the river from the main station – are rather run down. Ideally I will take the train to the border to Romania at Nagylak (HU), and at the moment it looks like it will run. If the service does indeed not run it's not a major problem though – I can cycle this route if I have to. The joint village Nagylak-Naglac (RO) divided by the border is fascinating on the map – at the moment it is a missing link in the railway network, but not one Cramer investigated. The distance between the tracks on each side is about 3km – I will cross the border here (and leave Schengen once more!) by bike.
Once on the Romanian side, it's onwards by local train to Arad (RO), an important railway junction more normally reached from the main Lököshaza (HU)-Curtici (RO) border crossing used by mainline trains from Budapest. From Arad I take one further train eastwards and stop overnight in Simeria.
| | |
| --- | --- |
| Day / Date | Saturday 23 July |
| Departure | Szeged |
| End | Simeria |
| Trains | 3 |
| Rail km | 257.4 |
| Bike legs | 1 |
| Bike km | 5.5 |
| Borders crossed | HU-RO – Nadlac |
| Events | No formal events, but maybe you'd like to say hello? – more about events en route here |
Data here is indicative. The Google Sheet for the trip is the always-updated definitive version.
On the day itself, live updates will be posted here.
The map below is an image of the route for this day. You can alternatively see access whole route with more controls on umap here.

Images used in this post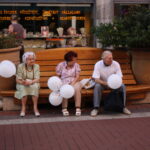 Mohamed Nanabhay
Szeged, Hungary
August 26, 2008
CC BY 2.0
All other photos taken by Jon Worth, can be re-used under the same terms as the content on this site.