I travelled this way in 2014 when there was still a direct train each day from Sofia to Thessaloniki (GR), but those trains no longer run – and indeed the service on all lines in Greece other than the main Thessaloniki (GR)-Athens (GR) route is incredibly limited these days. Also the cross border route here looks quite hellish – I cannot cycle on the motorway, and country lanes route up and across steep hills. So I think I am going to have to take a taxi here, from Kulata (BG) – the last station Bulgarian side – to Sidirokastro. This is a border with a missing service – lines exist here, but services do not run. I could also take the Septemvri–Dobrinishte narrow-gauge line for part of this, and a bus from Bansko to Blagoevgrad, but it takes longer. To be decided closer to the time!
Data here is indicative. The Google Sheet for the trip is the always-updated definitive version.
On the day itself, live updates will be posted here.
The map below is an image of the route for this day. You can alternatively see access whole route with more controls on umap here.
Images used in this post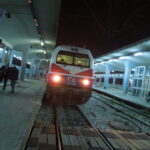 ☮
Thessaloniki '17
November 26, 2017
CC BY 2.0
All other photos taken by Jon Worth, can be re-used under the same terms as the content on this site.