The day will start with a meeting with activists, and then a quick hop on the bike across the Danube and into Austria to Wolfsthal (AT) – from here to Bratislava Petržalka is a missing link between Wien and Bratislava. It is one that Cramer investigated, but one with little prospect of improvement soon – as two other lines between the Austrian and Slovakian capitals have been attracting the investment.
It's then back to Bratislava main station, and onto the EuroCity train to Kolín (CZ), entering Czechia at Breclav, a border with good long distance and poor local services from Slovakia.
I will then take regional trains via Stara Paka (CZ), Liberec (CZ), Zittau (DE) and Cottbus (DE) – and the route takes me CZ-PL (once), PL-DE (3 times) and DE-PL (twice) – so that's 7 border crossings in 1 day! All of these later border crossings have good local train connections, but no long distance traffic.
And then if I manage all of that I will be home in Berlin!
Day / Date
Monday 1 August
Departure
Bratislava
End
Berlin
Trains
6
Rail km
767.8 – help me crowd fund kilometres of my route!
Bike legs
1
Bike km
26.5
Borders crossed
SK-AT – Wolfsthal
AT-SK – Petrzalka
SK-CZ Breclav
CZ-PL – Luptin
PL-DE – Zittau
DE-PL – Hirschfelde
PL-DE – Rosenthal
DE-PL – Rosenthal
PL-DE – Hagenwerder
Events
Bratislava – more about events en route here
Data here is indicative. The Google Sheet for the trip is the always-updated definitive version.
On the day itself, live updates will be posted here.
The map below is an image of the route for this day. You can alternatively see access whole route with more controls on umap here.
Images used in this post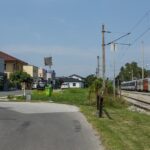 Albert Koch
S-Bahn to Vienna waiting for departure
July 28, 2018
CC BY-ND 2.0
All other photos taken by Jon Worth, can be re-used under the same terms as the content on this site.