Staying overnight in Lons-le-Saunier allows me to make an early start on TER trains on the old lines via Besançon to Belfort. And there the absurdity begins.
Belfort is an old railway town, famous for the Alstom factory where the first TGVs were developed. But it was somewhat bypassed as a railway junction in 2011 when the high speed LGV Rhin-Rhône line was opened. But the old international line between Belfort and Delle on the France-Switzerland border crosses the high speed line at Meroux, south of Belfort. The stop here would allow passengers getting off TGVs at the new Belfort-Montbéliard TGV line to change onto local trains to Belfort (north, in France) and Delle, Porrentruy and Delémont (south, towards or in Switzerland).
So what has happened?
SNCF TER trains Belfort-Meroux (trip time: 9 minutes) are few and far between, and go at strange times throughout the day. Belfort has a population of 46000 people. Swiss railways SBB runs a more or less hourly service from Biel and Delémont as far as Meroux, but not the whole way to Belfort! This means the village of Buix (population: 476) – on the route in Switzerland – has a better connection to Belfort-Montbéliard TGV than Belfort itself does! This is mind blowing.
Anyway, for the hell of it, I will take the irregular TER from Belfort to Meroux, hang around there for an hour, then take the SBB train through Buix to Delémont, and then change there for Basel SBB. This is a border with local trains that are only any good if you want to connect with a TGV, and are useless if you want to actually go to Belfort or Montbéliard.
Oh and as if that is not absurd enough, I might even… be able to cycle between the stations faster here – and get an earlier train on the Swiss side!
From Basel SBB I will catch the ICE north into Germany, to Freiburg. The border Basel Bad to Weil am Rhein is a border with excellent local and excellent long distance trains.
From Freiburg it is a short train ride to Breisach, the point on the German side that has been the end of the railway since the end of World War II. On the other side of the Rhein here is Volgelsheim – where a station and tracks still exist, but the section as far as Colmar is for freight only. This is a missing link that Cramer investigated in his work. The news about the future is mixed here – the bus that currently crosses the border is in danger of being cut but on the German side there is solid determination to re-activate the rail line, perhaps even by 2030. I do not quite understand how a bus can be in danger, but a more costly train connection would make sense, but I am going to find out.
From here I will hop onto my bike and cycle west to Colmar. From there it is a regional train to Strasbourg, and a TGV onwards to Metz.
(Day 14 was originally Genève-Metz, but was re-planned)
Day / Date
Thursday 30 June
Departure
Lons-le-Saunier
End
Metz
Trains
9
Rail km
588.8 (was 527.3)
Bike legs
1
Bike km
23
Borders crossed
CH-DE Basel-Weil
DE-FR – Breisach-Volgelsheim
Events
Event and bike ride Freiburg (Breisgau) – Breisach – Colmar
Data here is indicative. The Google Sheet for the trip is the always-updated definitive version.
On the day itself, live updates will be posted here.
The map below is an image of the route for this day. You can alternatively see access whole route with more controls on umap here.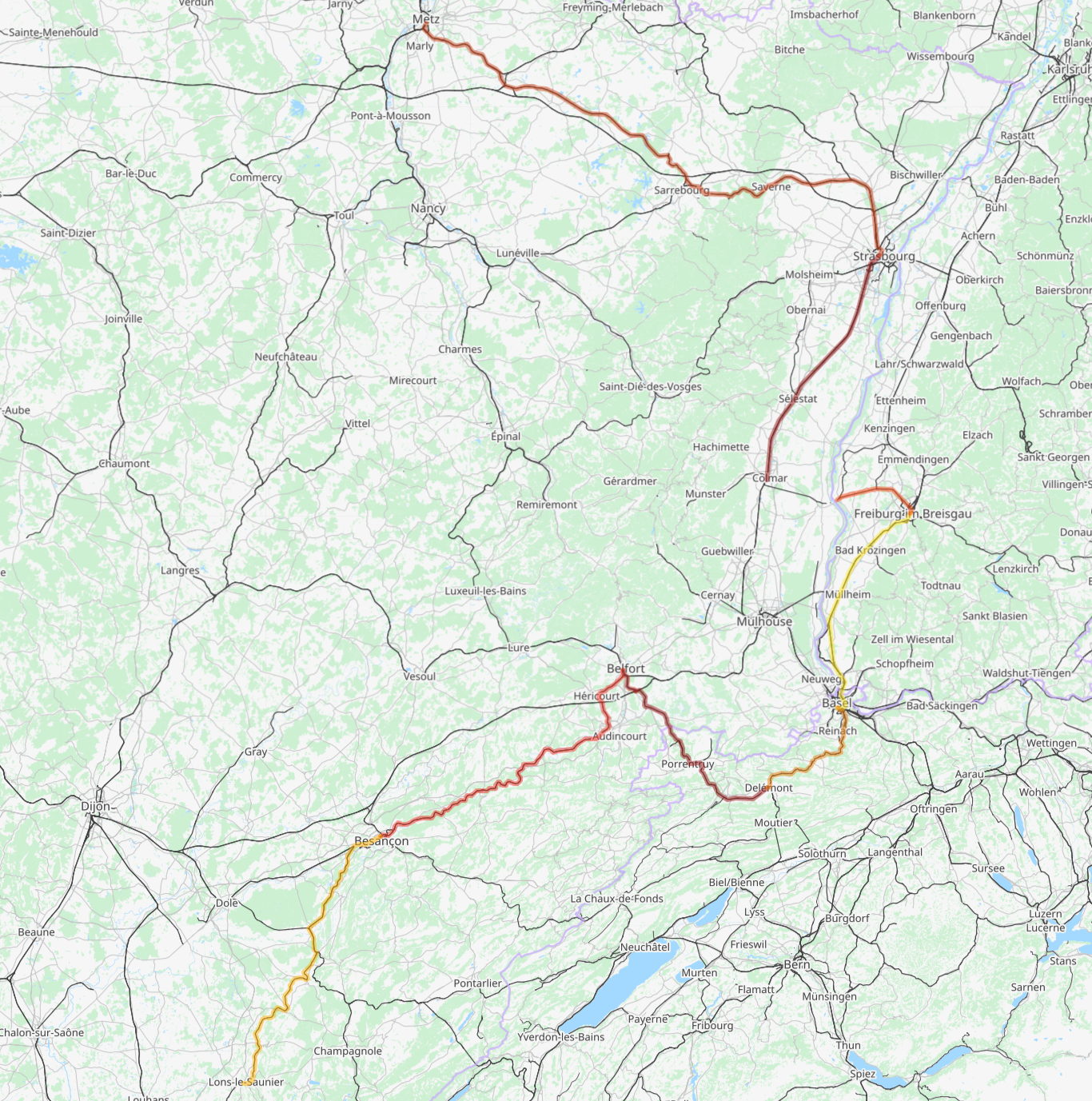 Images used in this post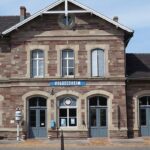 Bahnhof Volgelsheim
Patrick Kerber
4th May 2008
CC BY-SA 3.0
All other photos taken by Jon Worth, can be re-used under the same terms as the content on this site.