This day starts on a bus operated by French railway company SNCF – there is no logical rail route to reach Longwy (FR) from Metz by train, so a bus is laid on instead.
From Longwy I will cross into Luxembourg at the three country FR-LU-BE corner, then into Belgium, and pick up the train again in Athus (BE). It is hard to assess the quality of the services here – it seems the options Luxembourg to Belgium are better than those Luxembourg to France, and indeed Longwy is not connected to anywhere in France by passenger rail, but is connected to Luxembourg!
Due to time pressure (thanks to the rescheduling of the trip to enable Lyon to be included), I do not have time to really stop in Luxembourg city – here activists are going to have to join me on the trains between Athus and Luxembourg, and Luxembourg and Wasserbillig (LU) – but that is not going to be a problem as trains in Luxembourg are free.
At Wasserbillig, I will take the EU funded electric ferry to Oberbillig (DE), and from there head south by train to Perl (DE). This cuts off the corner of having to go as far as Trier (DE) on one side of the Moselle, and back on the line on the other side – thanks Kristina Diller for the tip! Due to the hilly terrain here the railway lines are comparatively slow, but the line Wasserbillig-Trier is a border with good local trains.
From Perl, it will be time to hop on the bike here once more – there is a railway line alongside the Moselle river between Perl and Thionville (FR), but currently it is only used for freight on weekdays, and there are just 3 services each way (between Metz and Trier) on weekends – so this is a missing service. My route will be slightly different – I will cross the Moselle from Perl back into Luxembourg at Schengen (it's a must-visit on this trip – because open borders in Europe help facilitate cross border rail transport and I ought to go to the place where the Treaty was agreed!), and then head south to Thionville.
From Thionville there is a direct TGV to Paris, where I will meet activists that evening.
Data here is indicative. The Google Sheet for the trip is the always-updated definitive version.
On the day itself, live updates will be posted here.
The map below is an image of the route for this day. You can alternatively see access whole route with more controls on umap here.

Images used in this post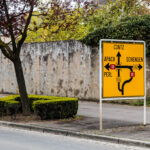 Manolo Gómez
Schengen
April 16, 2017
CC BY 2.0
All other photos taken by Jon Worth, can be re-used under the same terms as the content on this site.