A day of two halves – a long and fast TGV from Paris to Pau, and then everything slows down.
Cross border rail between France and Spain is in a sorry state, and examining any of the 4 open and 1 closed crossing could have been interesting. But I can't see and do everything. So Hendaye (FR)-Irún (ES) will have to do with the detailed examination in this blog post, and instead I will cross into Spain along a line where international trains have not run since 1970 – on the Pau to Canfranc route. Trains have run as far as Bedous (FR) since 2016, but the Bedous-Canfranc section is still out of action – there is a bus here. The extraordinary station building at Canfranc (shown, more on Wikipedia here) is I suspect the main reason for attention given to this line than any clear business rationale. This is a missing link that Cramer also investigated.
Part of the problem is also on the Spanish side – the broad gauge line there to Zaragoza via Huesca (ES) is slow and only 2 trains a day run as far as Canfranc. The timetables are also really impractical here – I do not need 4 hours in Canfranc, but there is no other option.
Data here is indicative. The Google Sheet for the trip is the always-updated definitive version.
On the day itself, live updates will be posted here.
The map below is an image of the route for this day. You can alternatively see access whole route with more controls on umap here.
Images used in this post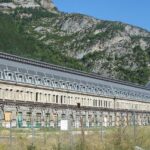 masia vilalta
L'estació de Canfranc
August 13, 2009
CC BY-NC 2.0
All other photos taken by Jon Worth, can be re-used under the same terms as the content on this site.