This was a tough call. The border from Salamanca (ES) to Vilar Formoso (PT) has had no passenger service for some years, but is complex to cross without needing to use buses. So instead I will cross into Portugal at Valença on recently upgraded infrastructure – the line from Porto to the Portugal-Spain border has been electrified, and is electrified on the Spanish side. But – surprise surprise – diesel trains run the cross border service, and only twice a day, because operators on either side of the border do not have EMUs suitable for local traffic that are compatible with the electrification system on the other side. So this is a border with poor local trains. There is also an information problem here, as there is no website that contains the timetable data of all Spanish and all Portuguese trains.
Unfortunately the original plan to meet the local association campaigning against the closure of Coimbra's inner-city suburban station has been shelved, and I will head direct to Lisboa from Porto – the minor change is explained here.
For the hell of it I might just take a quick hop to Cascais!
| | |
| --- | --- |
| Day / Date | Monday 4 July |
| Departure | Vigo |
| End | Lisboa |
| Trains | 2 |
| Rail km | 511.5 |
| Bike legs | 0 |
| Bike km | To my destination for media work in Lisboa |
| Borders crossed | ES-PT – Valenca |
| Events | Coimbra and Lisboa – more about events en route here |
Data here is indicative. The Google Sheet for the trip is the always-updated definitive version.
On the day itself, live updates will be posted here.
The map below is an image of the route for this day. You can alternatively see access whole route with more controls on umap here.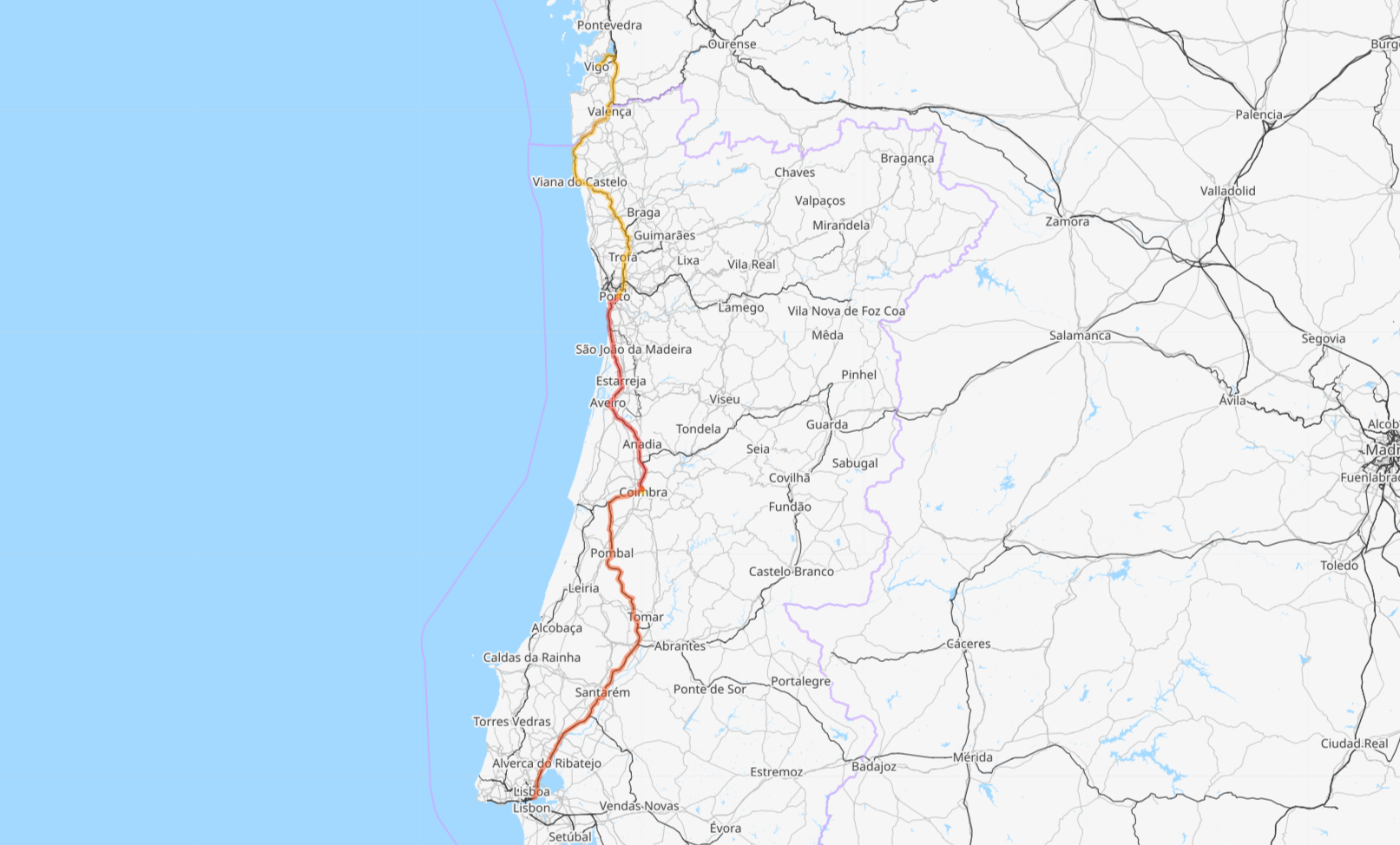 Images used in this post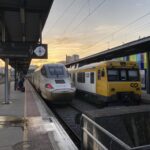 Joe Ruffles
Renfe Alvia and CP cross border DMU at Vigo Guixar
May 19, 2022
Used with permission
All other photos taken by Jon Worth, can be re-used under the same terms as the content on this site.