After a morning meeting with activists in Bern, it's time to head eastwards – through Zürich and Rapperswil to St Gallen (CH) and St Margrethen (CH).
I am not taking the fastest route to St Gallen, because routing via Rapperswil gives me a leg on the Voralpen Express between there and St Gallen – a railway contact in Switzerland has indicated to me that Südostbahn would be very happy to have me on one of their trains. And as that route has modern and excellent Stadler-built trains, what's not to like?
I will then cross into Austria at Lustenau (AT) – the only cross border line directly between Switzerland and Austria. This is a border with reasonable long distance connections (Zürich-München trains cross here) and excellent local services. After a quick bike tour to have a look at the narrow gauge Dienstbahn der Internationalen Rheinregulierung and then back into Switzerland by bike, it's time for a quick trip south to Buchs (CH), and then two border crossings in quick succession – the RailJet train traverses Liechtenstein between Buchs and Feldkirch (AT), but does not stop there! Indeed Liechtensteiners voted against improving the rail service in a referendum! These then are borders transited by long distance trains, and with a limited local service.
The route then continues through Vorarlberg to Innsbruck (AT) and Wörgl (AT). The fastest route would be to go via Salzburg (across the corner of Germany!) but instead I will take the scenic slow train from Wörgl via Kitzbühel (AT) (Salzburg – Tiroler Bahn). After all I can allow myself some routes I have never taken before, surely? In Schwarzach there is a connection southbound over the Tauernbahn to Villach (AT). Somehow I end up going to Villach rather often!
Data here is indicative. The Google Sheet for the trip is the always-updated definitive version.
On the day itself, live updates will be posted here.
The map below is an image of the route for this day. You can alternatively see access whole route with more controls on umap here.

Images used in this post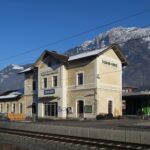 Kecko
ÖBB Station Schaan-Vaduz
February 13, 2015
CC BY 2.0
All other photos taken by Jon Worth, can be re-used under the same terms as the content on this site.