26-28 May I am making a 3000km journey from Berlin via Kraslice to Klagenfurt, from Klagenfurt via Lienz to Milano, and Milano via Tirano and the Bernina Express route to Chur, then back to Berlin. Each of these days has a background page (Extra Day 01, Extra Day 02, Extra Day 03) and there will be a live blog each day as well (Extra Day 01, Extra Day 02, Extra Day 03). This part of my project has been funded thanks to the generous donation of a Deutsche Bahn voucher that was about to expire – and covers the costs of pretty much all of these trains. The timetable for all of this is here.
Then from 31st May I am stitching together a bunch of different work and personal trips. Extra Day 04 (background, live blog) will take me from Berlin via Nuits-sous-Ravières, Paris, and Latour-de-Carol-Enveitg to Barcelona for the European Passengers' Federation conference where I am giving a keynote speech. There might also be an informal event in Barcelona on 1st June as well.
From Barcelona I head to Italy on 2nd June – to a friend's wedding – but I am making a bit of a #CrossBorderRail trip out of it! 2nd June Extra Day 05 (background, live blog) gets me to Italy, and 5th June Extra Day 06 (background, live blog) goes through Switzerland back to Bourgogne.
On 8th June there are events in Paris and Bruxelles. Then 9th June Extra Day 07 (background, live blog) starts and ends in Bruxelles, and goes to Terneuzen in Netherlands, and finally 10th June Extra Day 08 (background, live blog) starts in Bruxelles, goes to all of the France-Luxembourg cross border lines, and ends back in Bourgogne.
The timetable for Extra Days 04-08, and a few other smaller trips that will not have dedicated live blogs, is here.
The totals:
Trains – 64
Train km – 10804.9
Bike legs – 4
Bike km – 88.6
Bus legs – 2
Bus km – 63.9
And I am going to be crossing these borders – those marked with * are ones I have never crossed before: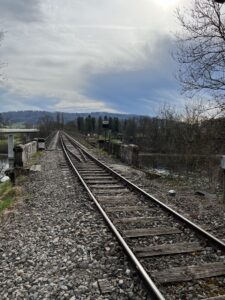 TRAIN Klingenthal (DE) – Kraslice-pod vlekem (CZ)*
TRAIN Schirnding (DE) – Pomezí nad Ohrí (CZ)
TRAIN Freilassing (DE) – Salzburg Taxham Europapark (AT)
TRAIN Weitlanbrunn (AT) – Versiaco-Elmo (IT)*
TRAIN 1000mm gauge – Campocologno (CH) – Tirano (IT)*
TRAIN Weil (Rhein) (DE) – Basel Badischer Bahnhof (CH)
TRAIN Basel St Johann (CH) – St. Louis (FR)
TRAIN Puigcerdà (ES) – La Tour de Carol-Enveitg (FR)*
TRAIN Figueres Vilafant (ES) – Perpignan (FR)
TRAIN Monte Carlo Country Club (FR) – Monte Carlo (MC)
TRAIN Cap d'Ail (FR) – Monte Carlo (MC)
TRAIN Ventimiglia (IT) – Menton Garavan (FR)
TRAIN Brig (CH) – Iselle di Trasquera (IT)
TRAIN Travers (CH) – Pontarlier (FR)*
TRAIN Lille (FR) – Bruxelles (BE) HSL
BIKE Zelzate (BE) – Sas van Gent (NL)*
BIKE Sint-Gillis-Waas (BE) – Hulst (NL)*
BIKE Mont-Saint-Martin (FR) – Aubange (BE)*
BIKE Longwy (FR) – Rodange (LU)*
BIKE Audun-le-Tiche (FR) – Esch-sur-Alzette (LU)*
TRAIN & BIKE Volmerange-les-Mines (FR) – Dudelange-Usines (LU)*
TRAIN Thionville (FR) – Bettembourg (LU)