Zur deutschen Version des Artikels | Aller à la version française de l'article | Go to the English version of the article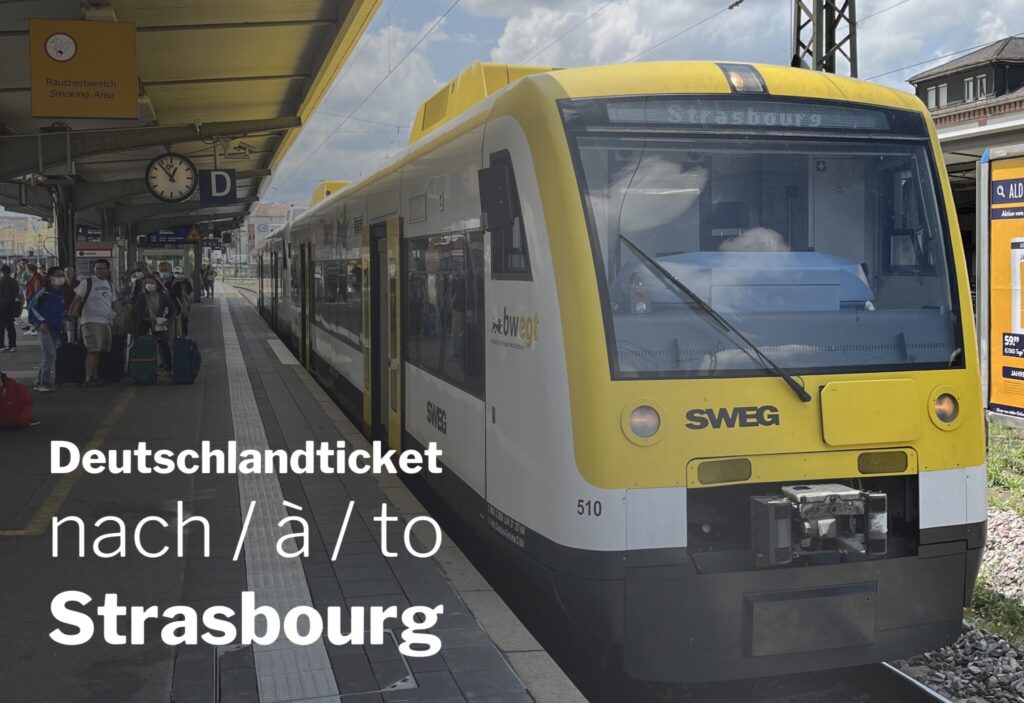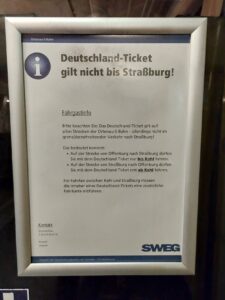 Es gibt eine französische Großstadt mit 300 000 Einwohnern in der Stadt selbst (und 800 000 im Stadtgebiet), die europäische und internationale Institutionen beherbergt und nur 8,1 Bahnkilometer von der deutsch-französischen Grenze entfernt ist. Diese Stadt ist Straßburg.
Mit dem neuen Deutschlandticket für pauschal 49 Euro pro Monat kann man von Deutschland aus nicht nach Straßburg fahren. Wenn man nämlich in den etwa stündlich verkehrenden Nahverkehrszug über die Grenze von Offenburg in Baden-Württemberg nach Straßburg einsteigt, wird man mit dem hier gezeigten deprimierenden Hinweis konfrontiert, dass das Deutschlandticket nur bis Kehl gültig ist.
Wie meine ausführlichen Recherchen über das Ticketing in grenzüberschreitenden Zügen von und nach Deutschland gezeigt haben, sind die Erfahrungen je nach Strecke sehr unterschiedlich. Aber wenn dies für die Strecke Emmerich (Nordrhein-Westfalen) – Arnheim (NL) (19,1 Streckenkilometer) behoben werden kann, dann sehe ich keinen vernünftigen Grund, warum dies nicht auch zwischen Kehl und Straßburg möglich sein sollte.
Wir haben zwar die vagen Pläne von Bundesverkehrsminister Wissing, das Deutschlandticket irgendwie in Frankreich gültig zu machen, aber wir haben wenig praktische Pläne.
Also, Verkehrsminister Volker Wissing und Clément Beaune, die Staatssekretäre für Europa Anna Lührmann und Laurence Boone sowie die Verkehrsminister in BaWü Winfried Hermann und Grand Est Thibault Philipps, wie wäre es?
Es ist einfach. Es ist billig. Die Züge fahren bereits. Und es wäre ein positives Symbol der deutsch-französischen Zusammenarbeit – das Deutschlandticket bis Straßburg ausweiten!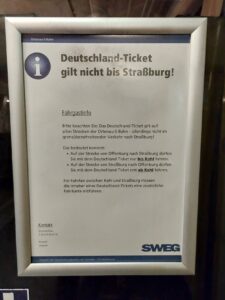 Il existe une grande ville française de 300 000 habitants dans la ville elle-même (et 800 000 dans son agglomération) qui accueille des institutions européennes et internationales, et qui se trouve à seulement 8,1 km en train de la frontière franco-allemande. Cette ville est Strasbourg.
Mais il n'est pas possible de se rendre à Strasbourg depuis l'Allemagne en utilisant le nouveau billet forfaitaire de 49 euros par mois, le Deutschlandticket. En effet, lorsque vous montez dans le train local qui traverse la frontière toutes les heures environ, d'Offenburg, dans le Bade-Wurtemberg, pour vous rendre à Strasbourg, vous êtes confronté au déprimant panneau illustré ici, qui indique que le Deutschlandticket n'est valable que jusqu'à Kehl.
Comme l'ont montré mes recherches détaillées sur la billetterie des trains transfrontaliers de/vers l'Allemagne, l'expérience varie considérablement en fonction de l'itinéraire. Mais si ce problème peut être résolu pour Emmerich (Nordrhein-Westfalen) – Arnhem (NL) (19,1 route-km), je ne vois pas pourquoi il ne pourrait pas l'être entre Kehl et Strasbourg.
Bien que le ministre allemand des transports, M. Wissing, ait vaguement prévu de rendre le Deutschlandticket valable en France, nous n'avons guère de projets concrets.
Alors, les ministres des transports Volker Wissing et Clément Beaune, les secrétaires d'État pour l'Europe Anna Lührmann et Laurence Boone, et les ministres des transports du BaWü Winfried Hermann et du Grand Est Thibault Philipps, qu'en pensez-vous ?
C'est simple. C'est bon marché. Les trains circulent déjà. Et ce serait un symbole positif de la coopération franco-allemande – étendre le Deutschlandticket à Strasbourg !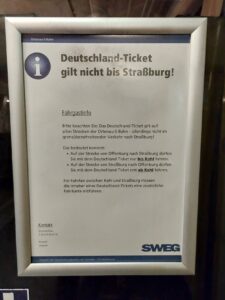 There is a major French city with 300000 inhabitants in the city itself (and 800000 in its urban area) that hosts European and international institutions, and is just 8.1 route-km by train from the France-Germany border. That city is Strasbourg.
But you cannot get to Strasbourg from Germany using the new flat-rate 49 Euro per month Deutschlandticket. Indeed when you board the roughly hourly local train across the border from Offenburg in Baden-Württemberg to Strasbourg you are confronted by the depressing sign shown here that the Deutschlandticket is only valid as far as Kehl.
As my detailed research about ticketing on cross border trains to/from Germany has shown, the experience varies widely depending on the route. But if this can be fixed for Emmerich (Nordrhein-Westfalen) – Arnhem (NL) (19.1 route-km) then I see no sensible reason why it could not be fixed between Kehl and Strasbourg.
While we have the vague plans from German Transport Minister Wissing to somehow make Deutschlandticket valid in France, we have little in the way of practical plans.
So Transport Ministers Volker Wissing and Clément Beaune, State Secretaries for Europe Anna Lührmann and Laurence Boone, and Transport Ministers in BaWü Winfried Hermann and Grand Est Thibault Philipps, how about it?
It's simple. It's cheap. The trains run already. And it would be a positive symbol of Franco-German cooperation – extend the Deutschlandticket to Strasbourg!
Notes
Bild des Schildes im Zug nach Straßburg von @wrzlbrnft – verwendet mit Genehmigung / Photo du panneau dans le train pour Strasbourg par @wrzlbrnft – utilisée avec permission / Picture of the sign in the train to Strasbourg by @wrzlbrnft – used with permission