Text updates
No live updates are showing here - probably because the this day is too far in the past and RSS feeds do not go back that far, or this is a live blog for a day in the future. Sorry!
Text updates are auto-generated from Mastodon – follow me on Mastodon here: gruene.social/@jon

Introduction and summary videos
All the #CrossBorderRail daily videos are on my Peertube channel
Latest photos
Today's background
Detail to be added.
The background for the Autumn 2023 project can be found here.
Route – with the focus on today's border crossing
The full zoomable and scrollable map, including today's route, is on uMap here.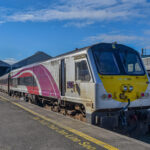 Martin Elsey
207
February 24, 2022
CC BY 2.0