It's taken a bit of planning to get the events on 13 May right, but now everything is set – come and discuss and learn about international railways and transport politics in Nürnberg and in Bamberg!
At 15:00 on Saturday 13 May I will visit the DB Museum Nürnberg, and will be guided through the exhibits by retired railway expert and museum volunteer Reinhard Menius. Meeting point is at the reception of the museum (Map), and I would be grateful if you could let me know if you intend to come along using the form here. This tour will also be family friendly, although participants will have to cover the cost of their entry to the museum – I sadly cannot cover that for you!
After a quick hop on the RegionalExpress, I will then join activists for an informal discussion next to the river in Bamberg – from 18:30 until at least 20:30 at Biergarten Bootshaus Restaurant im Hain (Map). Come along and chat about all of the railway challenges in Bavaria, and specifically the problems between Nürnberg and Bamberg towards Hof and the border with Czechia. I'd be grateful if you could let me know if intend to come along using this form. Thanks to Timm Schulze in Bamberg for help with the organisation of this event!
Photo used in this post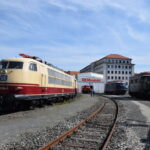 Hugh Llewelyn
DB Museum, Nurnberg
May 10, 2016
CC BY-SA 2.0