When I originally did the planning for the #CrossBorderRail project I thought it was going to be impossible to get all the way to Athens. But now – thanks to a timetable change by TrainOSE, the Greek railways – I have been able to reorganise the South East loop so as to be able to get to the Greek capital. That means that my trip will now take me to the political capitals of every country in the EU I cross (so all of them except Ireland, Malta, Cyprus) and also the capitals of Norway and Switzerland.
The headline changes in Greece are that the 5 daily loco hauled InterCity services are to be complemented by 2 InterCityExpress ICE (yes, they do call them that – apologies Deutsche Bahn) that will be run using ex-Trenitalia ETR470 trains that used to run on Cisalpino services between Italy and Switzerland. This decision has not been universally welcomed, given the poor reliability record of these trains and their rather plasticky 1990s interiors. While the regular IC trains stop 9 times between Thessaloniki and Athens, the ICE trains stop just once – in Larissa – but only manage to shave 11 minutes off the trip time, and tickets start at €55! This does not look like a solid service improvement to me!
Anyway the introduction of these ICE trains, and some other timetable changes Thessaloniki-Drama and Alexandroupouli-Ormenio mean I can get to Athens, and back to Thessaloniki, and onwards to north eastern Greece without adding anything to my total trip time.
Images used in this post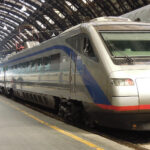 David McKelvey
SBB Class ETR-470 Pendolino, Milano Centrale railway station, Lombardy
April 7, 2013
Attribution-NonCommercial-NoDerivs 2.0 Generic (CC BY-NC-ND 2.0)