My #CrossBorderRail trip is due to start just over 5 weeks from now. But two parts of the trip – in Sweden on 18-19 June, and Spain on 3 July – are giving me no end of problems.
At the time of writing I do not know if two trains crucial to my trip are going to run, namely Vy night train 94 (Stockholm-Narvik night train, I aim to take it between Gävle and Gällivare) and Renfe Alvia 622 (Barcelona Sants-Vigo Guixar, I aim to take it Zaragoza Delicas-Vigo Guixar).
In both cases the trains show in Deutsche Bahn's Reiseauskunft but then when trying to make a reservation on either things break down.
The Swedish night train does not even show correctly on Vy's website, or indeed on SJ's either – so I had to take to emailing Vy and their service staff… blamed Trafikverket, the state agency that runs the network. Trafikverket will provide Vy more information about engineering works next week.
The Zaragoza-Vigo train does show on Renfe's site, but for reasons unknown (and unlike other departures to Madrid that day) is for some reason not bookable.
I'm sorry, railways of Europe – this is not good enough. Imagine I were a family from Stockholm planning a summer trip to the north of Sweden to go walking – I'd want to know if I could take the train! Or someone wanting to cross Spain to visit family in Galicia. These distances are so great you cannot take decisions to make a trip like this on the spur of the moment. And furthermore these issues are not even cross border – both of the trains in question are national (well, Narvik is in Norway, but all the trains there are operated by the Swedes).
Meanwhile some of the other trains I need to take… are close to all booked up already.
So how could this be solved? A legal obligation – EU wide – for all engineering works to be published by network operators at least 12 weeks / 3 months in advance. Or else face fines. How about it, European Commission?
Images used in this post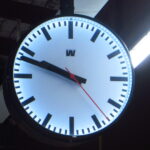 Mr Thinktank
IMG_5798 waiting for a delayed train at Sundsvall station
March 12, 2018
Attribution 2.0 Generic (CC BY 2.0)