How I am going to get from Vigo (ES) to Lisboa (PT), and from Lisboa to Madrid (ES) has now changed slightly.
On Day 18 – Monday 4 July – I am going to make a brief stop in Porto (to record a podcast) rather than in Coimbra, and this will also mean an earlier arrival in Lisboa – arriving at 15:52 on an Intercidades train. I am then going to do further media work at 18:30, near metro station Baixa Chiado, and after that go for dinner with a few people nearby. If you would like to come along, please let me know.
On Day 19 I will leave Lisboa a little earlier than planned – on the Alfa Pendular at 08:09, changing onto the Regional to Badajoz after an hour at Entroncamento, Having reached Badajoz in Spain I will then route via Merida, rather than via Puertollano, to get to Madrid.
All the revised times are in the Google Sheet.
Day 20 – when I am planning to travel Madrid-Marseille is likely to also be disrupted due to a train strike in France – at the moment I do not know the extent of the disruption, or whether the train I am due to take – a Renfe AVE on this cross border route – will run. I have instead made a backup plan – to get to Port Bou (ES) by train, and cycle over the hill to Cerbère (FR) to resume my journey on Day 21.
To be continued…!
Photos used in this post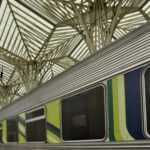 J Mark Dodds
Lisbon Oriente
August 18, 2010
CC BY NC ND 2.0