This one has been long in the planning, and we've now only finally got everything together a week ahead, but I am happy to announce the #CrossBorderRail event at the Slovenian Railway Museum, Ljubljana, on Wednesday 18 October from 17:00 CEST (map). The event is organised together with the British Embassy Ljubljana and their Alumni UK Slovenia network.
The schedule for the event is as follows:
17:00-17:45 – guided tour of the museum
17:45-18:15 – my speech about Slovenia's railway borders, and the opportunities for improvement
18:15-19:00 – debate
after 19:00 – reception
My main speech will also be live streamed – on my Youtube channel.
The event is free to attend in person, and the museum is well worth visiting and it is going to be a super backdrop for my presentation. However you must sign up in advance.
Image Rights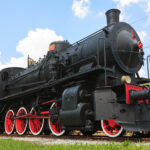 Allan Harris
Slovenia 2007
June 10, 2007
CC BY-NC-ND 2.0