With just one more day to go before I finally stop travelling to the internal borders of the European Union by train, I am pleased to be able to announce the first event where I will present the preliminary conclusions of the project so far.
This event will happen on Monday 29 August 16:00-18:30 at Stadler Rail's factory in Berlin-Pankow, and there will be a panel discussion about the conclusions with Panel discussion with Dr. Anna Lührmann (pictured – Minister of State for Europe and Climate Action), Dr. Pinar Bilge (Project Manager, Digitalisation, Stadler Rail) and Bastian Kettner (Spokesperson for Rail, Public Transport and Multimodality – VCD Verkehrsclub Deutschland e.V.)
The event is public (inform your friends and colleagues!) and is free to attend, but you must sign up in advance – please use the form at the bottom of this page. The event will be in German, without translation, and will be live streamed for those unable to be there in person. Similar events in Brussels, Paris and Vienna are being planned, and if you would like me to present my conclusions to you or your organisation please do contact me!
Images used in this post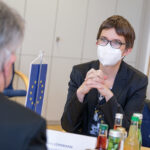 BMKÖS
SARD5347 – Anna Lührmann, deutsche Staatsministerin für Europa und Klima, zu Besuch in Wien bei Vizekanzler Werner Kogler.
January 28, 2022
CC BY ND 2.0