The final day trip of the #CrossBorderRail project – CD-CZ-PL as explained here – was completed on 18 August. And I have no more days left on my Interrail pass. So that means that all the travel for the project for the summer of 2022 is now done.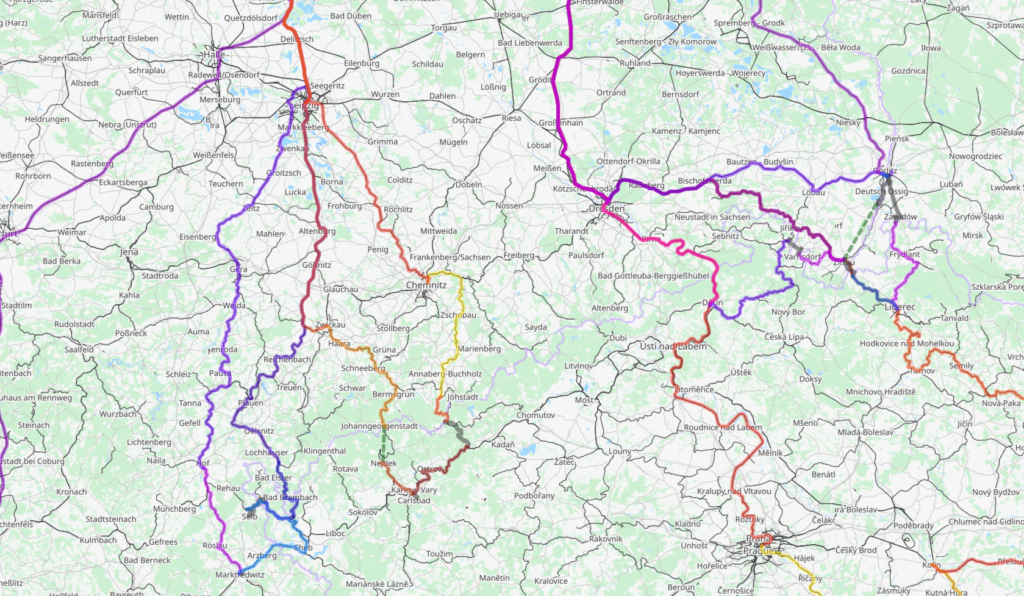 Everything has been mapped on umap here – that's the best way to examine the route. Orange shades, and purple shades, are trains in the project – with days alternating between orange and purple shades. Each subtly different shade (for example a pink followed be a purple) is a different train on the same day. Each line on umap is clickable, and the start and end point of that train is then displayed. Grey lines are cycle routes, and dashed green lines are scheduled buses, rail replacement buses, ferries, a taxi, and a rail replacement Tesla.
All the rail routes here were made using Pierre Beyssac's amazing rail routing tool. From this GEOJSON files were then exported, and then imported into umap.
The statistics and timetables for the whole trip – as travelled – are in a Google Sheet here. The route-km from Beyssac's tool then allow me to calculate the average speed of each train I took, and total up the kilometres – each day, and for the project as a whole.
It comes out as follows:
| | |
| --- | --- |
| | 95 |
| Bike legs | 34 |
| | 5 |
| | 7 |
| Ferry | 3 |
| Night train | 4 |
| Train | 186 |
| | 1 |
| Taxi | 1 |
| | |
| --- | --- |
| Rail km | 30171 |
| Bike km | 956 |
| Bus, ferry, taxi, Tesla km | 1562 |