(Not all of these stories necessarily concern the South East loop of the project in particular – but they were published during the time I was on the rails for that loop!)
Journalist Jon Worth gaat uitdaging aan: in 40 dagen alle Europese grenzen passeren met de trein
OVPro – Interview by Sander van Vliet – 09.08.2022
"Onderzoeksjournalist Jon Worth is op pad met een missie: het Europese spoornetwerk onderzoeken. In veertig dagen wil hij álle Europese binnengrenzen over steken met de trein. Het project laat al snel zien wat mis is met het Europese treinnetwerk: de kwaliteit van infrastructuur verschilt enorm, sporen sluiten niet op elkaar aan en vertrektijden zijn totaal niet op elkaar afgestemd. OVPro spreekt Jon Worth midden in zijn reis."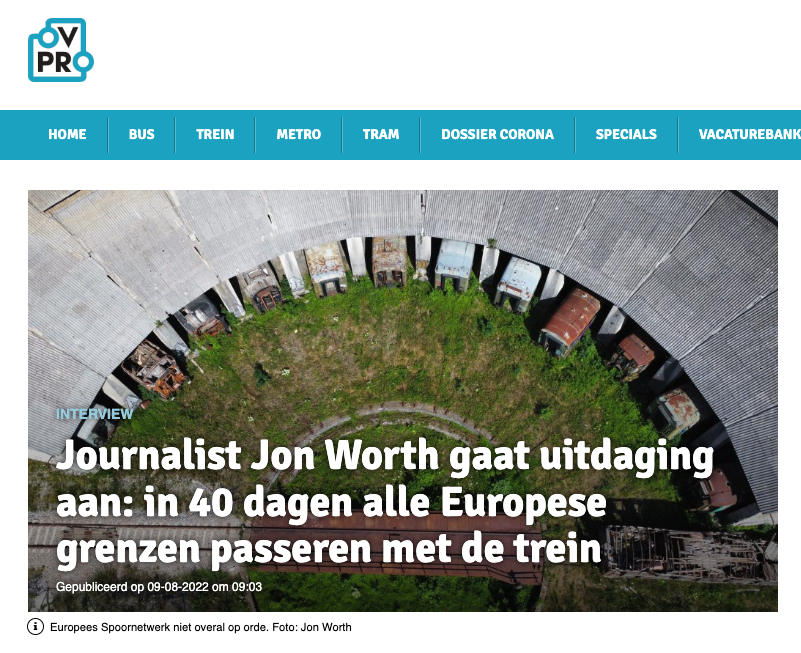 Épopée ferroviaire en Europe: « les infrastructures ne suffisent pas »
Le Monde Blog – Olivier Razemon – 08.08.2022
"L'Europe dans la vraie vie. Jon Worth a horreur des bus, lui aussi, surtout ceux « de substitution » au rail. Ce Britannique de 42 ans, polyglotte, qui vit à Berlin, est un passionné du ferroviaire. Cet été, il a voulu tester l'Europe du rail, et en particulier les passages de frontières. L'Europe dans la vraie vie. Il en raconte la chronique, jour après jour, sur Twitter et Instagram, sous le hashtag #crossborderrail. Il fera des propositions concrètes aux élus européens dans les prochaines semaines. Le lendemain de son retour, il m'a raconté ses impressions, toutes fraîches."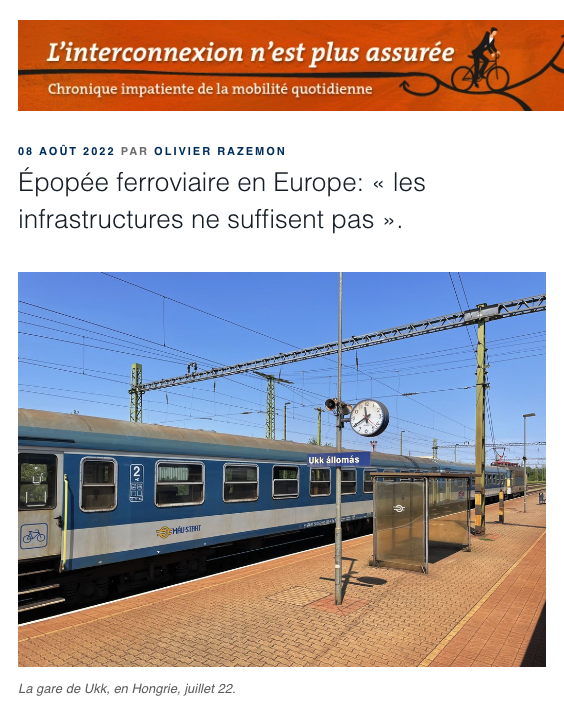 Jon Worth: "Portugal faz muito com pouco investimento nos comboios"
SAPO ECO – Diogo Ferreira Nunes – 07.08.22
"Jon Worth embarcou na aventura de percorrer a Europa de comboio durante 40 dias – e a ajuda de uma bicicleta desmontável para atravessar alguns países. Britânico de origem mas atualmente a viver em Berlim, o professor de assuntos europeus quer denunciar as falhas na ligação entre as fronteiras dos vários países da União Europeia através do projeto Cross Border Rail.
"Quero evitar andar de avião e cheguei a uma situação em que quando atravessamos fronteiras na Europa de comboio há muitas coisas que não funcionam. Ninguém tem falado sobre isto de forma sistemática", diz."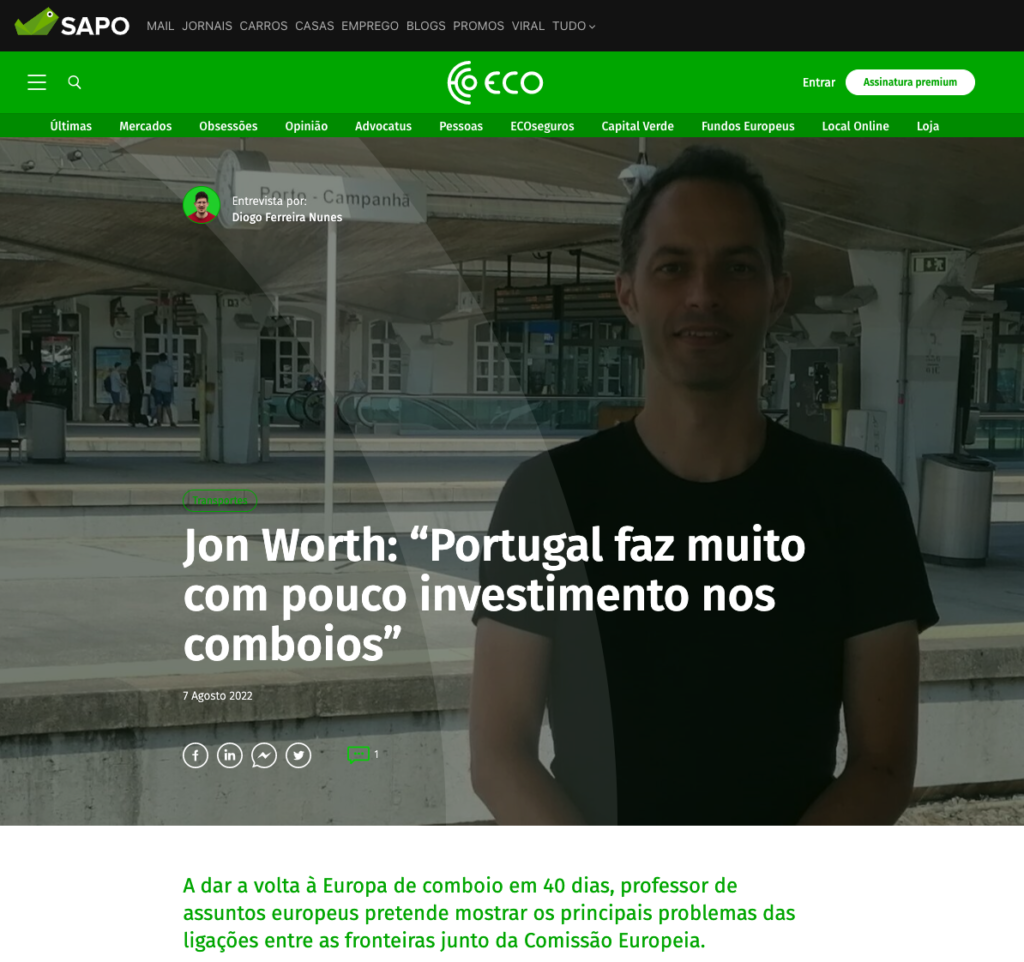 Tagesspiegel Background – Jon Worth
Tagesspiegel – Linda Osusky – 03.08.2022
"Jon Worth setzt sich dafür ein, dass Zugreisen innerhalb von Europa einfacher werden – und damit zur echten Alternative zum Fliegen. Diesen Sommer hat der Kommunikationsexperte eine neue Kampagne gestartet. Sein Ziel: den Druck auf die Politiker:innen in Brüssel erhöhen."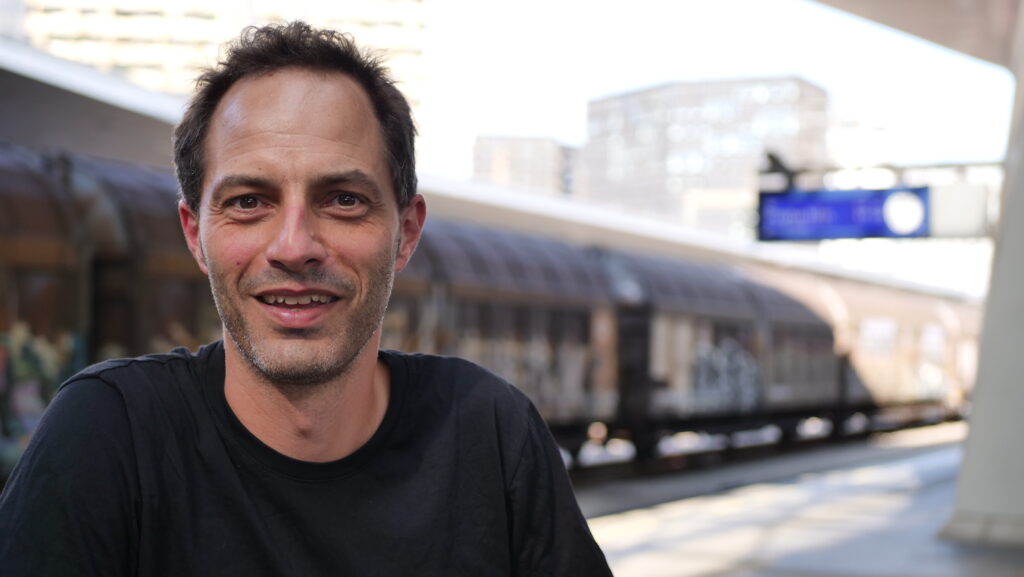 Photo © Linda Osusky / Tagesspiegel. Used with permission here, cannot be re-used.
Aktivist reist per Bahn 27.000 Kilometer durch Europa – was er über das Zugfahren gelernt hat
RND – Jan Sternberg – 02.08.2022
"Der Blogger und Verkehrspolitikaktivist Jon Worth ist auf eine Sommerreise mit dem Zug über alle Grenzen der EU gefahren. Wo keine Bahn fuhr, nahm er das Klapprad. Was er von der EU-Verkehrspolitik fordert und wie er die Deutsche Bahn im internationalen Vergleich findet, erzählt er RND-Reporter Jan Sternberg."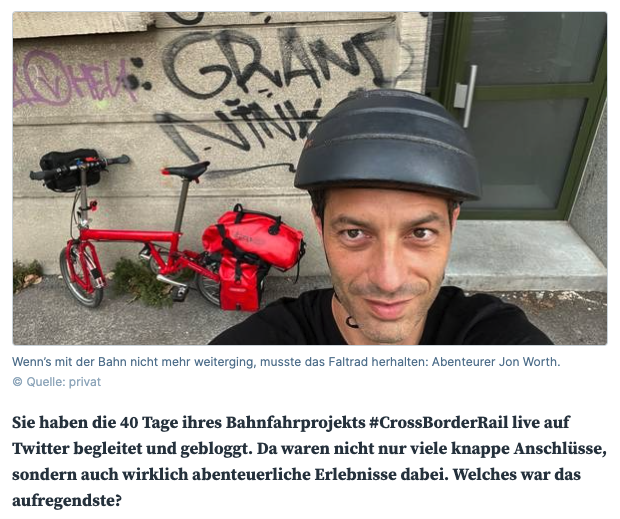 Berlin: PRO BAHN begrüßt Mitglied Jon Worth nach Ende seiner Reise in Berlin
Lok Report – 02.08.2022
"Über eine spezielle Website und über Twitter hat Jon Worth schon während seiner Reise, die die Probleme im Grenzverkehr mit der Eisenbahn in vielen Län- dern Europas aufzeigen sollte, berichtet, aber nun werden sicher viele Vorträge und Berichte von ihm folgen."
This man is taking 150 trains across 28 European countries. Here's what he has learnt
Euronews Travel – Ian Smith – 22.07.2022
Video report to go with the earlier written report.