In the past twelve months I have:
Investigated 131 cross border railways in Europe
Travelled 62716 km on 425 trains
Cycled 1662 km in 62 different places
Travelled 2191 km on 20 buses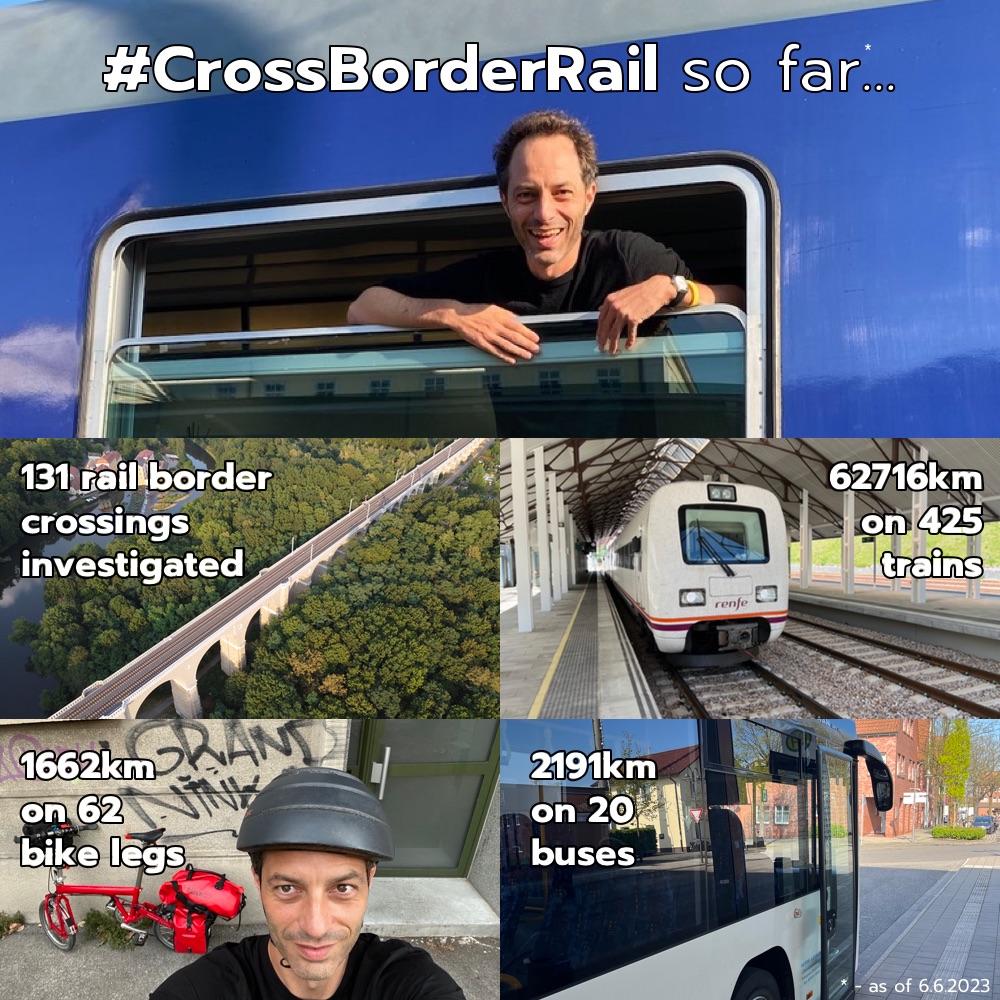 I've now updated my "All the borders" #CrossBorderRail map as well, to reflect all of that. Pink pins are the places I have been in the past 12 months, orange pins are the places I have been before that, and grey pins are places I have not yet travelled.
On 29 June I have a trip to Basel to investigate some lines there, but – for the next couple of months at least – my travels are on pause. It is time to reflect a bit about what I have discovered, and also what to do with all the material I have gathered and all the experiences I have had.
At the end of the 2022 project I assembled a "Top 20" proposals for the European Union (background here, detailed recommendations PDF here).
The good news is that in two of the 20 cases – Poland-Lithuania between Suwałki and Marijampolė, and Germany-Czechia Seifhennersdorf-Varnsdorf – there have been improvements, although I readily admit not thanks to me! There is now a daily InterCity train across the Poland-Lithuania border, and I went to the re-launch of trains at Seifhennersdorf earlier in June (more about that here).
However at at least a dozen borders I have visited since the main project in 2022 – either in the 2023 Germany borders project, or in my extra day trips – where I have found further examples of the sorts of problems identified last year.
These – broadly – fit into four categories.
First are the places where cross border lines have fallen into disrepair and are no-longer operable – and whether this could be reversed. Dinant (BE) – Givet (FR), Évian-les-Bains (FR) – St-Gingolph (CH), Coevorden (NL) – Neuenhaus (DE) and Wintersdorf (DE) – Roppenheim (FR) (latter for a tram train) look the best additional discoveries here.
Second are the places where lines exist, but trains do not run. Here Rielasingen (DE) – Ramsen (CH), Niedaltdorf (DE) – Bouzonville (FR) and Horka (DE) – Wegliniec (PL) look the best new discoveries.
There are timetable coordination problems – the third category – at three France-Switzerland borders Le Locle-Col-des-Roches – Morteau, Travers – Pontarlier, and Vallorbe – Labergement-Sainte-Marie, and at three France-Germany borders Hanweiler – Sarreguemines, Schweighofen – Wissembourg and Berg (Pfalz) – Lauterbourg.
And there are ticketing problems – the fourth group – at Aachen (DE) – Hergenrath (BE), Weener (DE) – Bad Nieuweschans (NL), Klingenthal (DE) – Kraslice-pod vlekem (CZ) and Forst (DE) – Zasieki (PL) – in all of these cases passes such as Deutschlandticket are valid to the last stop in Germany, and passes valid the other side of the border do not include the cross border section either, meaning fiddly extra tickets are needed to cross the border in each case. Hanweiler (DE) – Sarreguemines (FR) also has a further problem – the complete absence of eTickets for the connection.
But what comes next?
Somehow I could, I suppose, just carry on. Keep travelling to all of the corners of Europe, go to all the places I have not yet visited. And to some extent I will do that a little during the autumn this year – invites to give presentations in Santiago de Compostela, in Wien and in Dublin are going to take me to new places, to borders I have not yet checked.
There are a few borders – like Miedzylesie (PL) – Lichkov (CZ) (would be used by Wrocław – Brno trains), the lines north of Čadca (SK) to Ostrava (CZ) and Żywiec (PL), and Trieste (IT) via Villa Opicina to Sežana (SI) that I have somehow missed, and I aim to get to sooner or later
I could also – with enough time and money – expand #CrossBorderRail to cover all of the non-EU Balkan countries as well – I even have a rough map and timetable planned out for how to do that.
But the crux of all of this is to try to achieve political change. To try to get some of these lines re-opened, get some of these timetable and ticketing problems fixed. Work with people on the ground to fix the problems, working with them. Or work top-down through the EU political process to make policy changes to hopefully eliminate some of these issues that way. But to be honest I am a little lacking ideas about how exactly to do that from here – I feel like I can point out the problems until I am blue in the face, but I am lacking levers and missing networks of influence to really achieve any meaningful change. I do not have – in the NGO campaigner's terms – a really viable theory of change. If you would like to either give me suggestions as to what I should do next, or want to team up in some way to make meaningful change, do drop me a line.