In December 2014 I went to a funeral for a train – the EuroCity "Wavel" train between Berlin and Wrocław was axed, and then MEP Michael Cramer organised a small ceremony to mark its passing.
But in 2016 Wrocław was European Capital of Culture, but there was no convenient way to get there by train. Cue efforts in Berlin's culture scene to do something about it – and the introduction of the twice weekly Kulturzug (Culture Train) between the two cities. And better still that special train still runs to this day, even though the regular daily EuroCity train has also meanwhile been re-instated.
I met Oliver Spatz – the driving force behind the Kulturzug – as part of my efforts together with other railway activists to get tourists to Kaunas when that city was European Capital of Culture by train. And there is another culture-rail headache on the horizon – Gorizia (Italy) and Nova Gorica (Slovenia) are jointly Capitals of Culture in 2025, but currently there are no passenger trains between the two – despite there being a line between them (this is one of my Top 20 projects to fix).
So I am now very happy to announce that, together with Oliver, we have found a way to do a kind of #CrossBorderRail – Kulturzug link up. On Saturday 30th September I will be presenting the conclusions of my research and campaigning work on board the Kulturzug between Berlin and Wrocław.
The timetable for the train is as follows:
Berlin-Lichtenberg D. 7.59
Berlin Ostkreuz D. 8.05
Cottbus Hbf D. 9.32
Weißwasser (Oberlausitz) D. 10.04
Węgliniec A. 10.50
Bolesławiec A. 11.10
Chojnów A. 11.29
Legnica A. 11.44
Wrocław Główny A. 12.35
Also the train is routed via the Horka Gbf – Węgliniec border that normally has no passenger trains.
A ticket for the train costs €24,90 and an optional seat reservation is €4,90 – tickets can be bought here. All the background about the Kulturzug is here. Do come along – it's going to be a super event!
From Wrocław Główny I am heading in the afternoon of 30 September via Sedzislaw and Trutnov hl.n. to Teplice nad Metuji – on regular rail services. As soon as the plans for that are finalised then joining me for that is also going to be possible!
Photo used in this post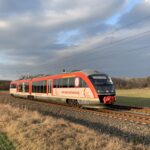 Kulturzug
Photo © Normen Schöne
Used with the permission of Kulturprojekte Berlin GmbH