I take a lot of pride in making sure my #CrossBorderRail projects are well mapped. But how do you even map rail routes? It's not as if it's something someone does every day!
So here I am going to outline how I do everything. It might be useful for others.
The main mapping tool – uMap
All of the zoomable maps for my projects are hosted on uMap – a free OpenStreetMap based mapping system. The advantage of this system is it allows you to overlay routes, polygons and icons (and even custom pins) onto an underlying map of your choice – usually OSM Transport (Thunderforest) in my case. You can organise the overlays into multiple layers.
The main maps I have made are:
– #CrossBorderRail 2022
– #CrossBorderRail 2022 – top 20 (the political conclusions – explained here)
– #CrossBorderRail 2022 and early 2023 Extra Days (all the extra, smaller investigations I have conducted)
– #CrossBorderRail 2023 Summer Extra Days
– #CrossBorderRail 2023 – Germany's borders
– #CrossBorderRail South East Europe project for the future
– All of Europe's railway borders (pins only, no routes)
uMap allows the import of geojson and GPX files – which is vitally important for this sort of project.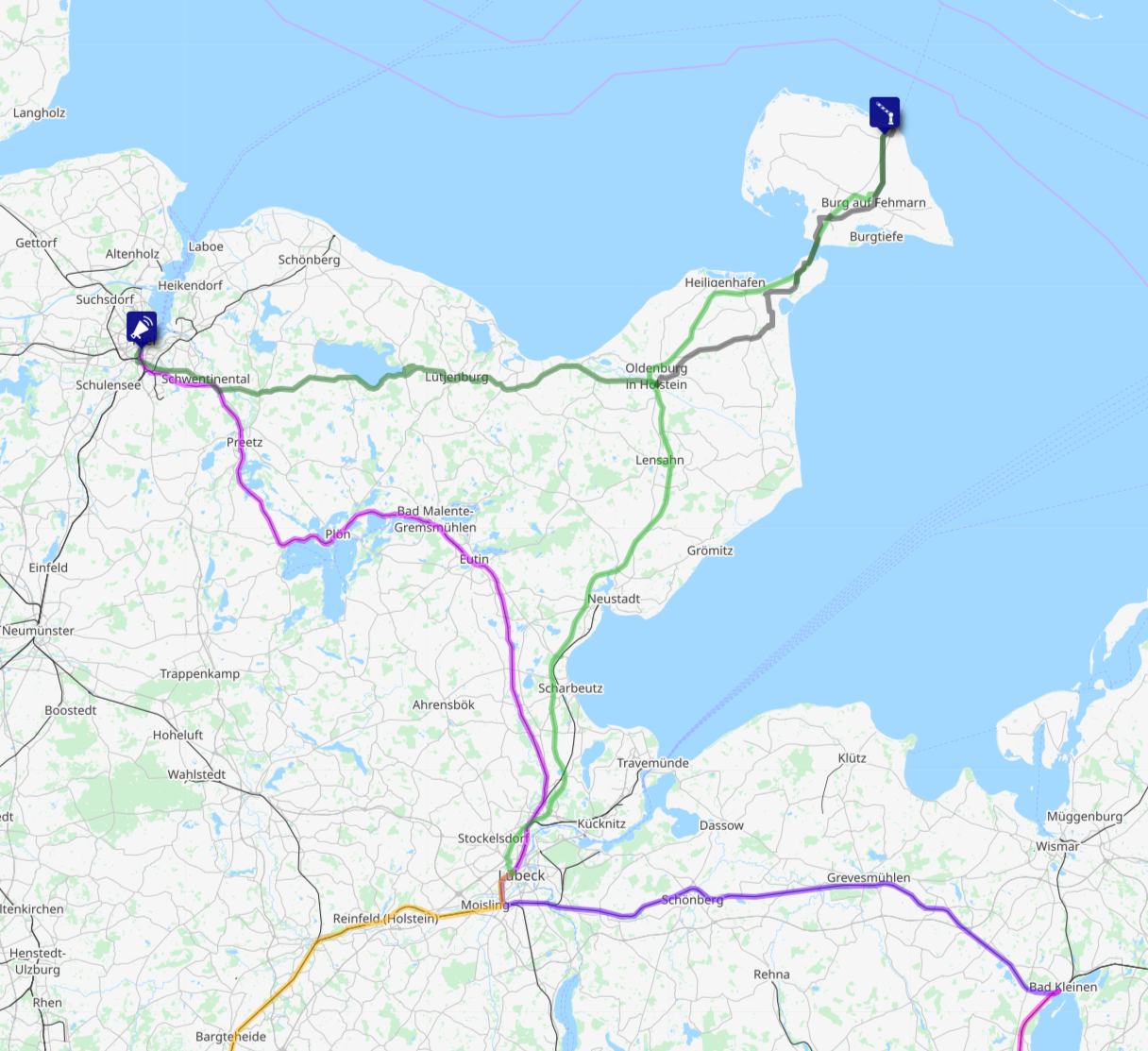 If there is a shortcoming of uMap, it is that it does not really give you obvious options to make a key. I have developed my own colour system, but that is not obvious for all people using the maps. Rail trips alternate – one day purples, the next day oranges – and each individual train has a slightly different colour shade. Buses are shown in green, and cycle routes in dark grey.
Rail routes – Pierre Beyssac's tool
Pirate party activist in France Pierre Beyssac has built a wonderful railway mapping tool, on the basis of OpenStreetMap data – signal.eu.org/osm This allows you to plot a railway route with incredible precision – like this: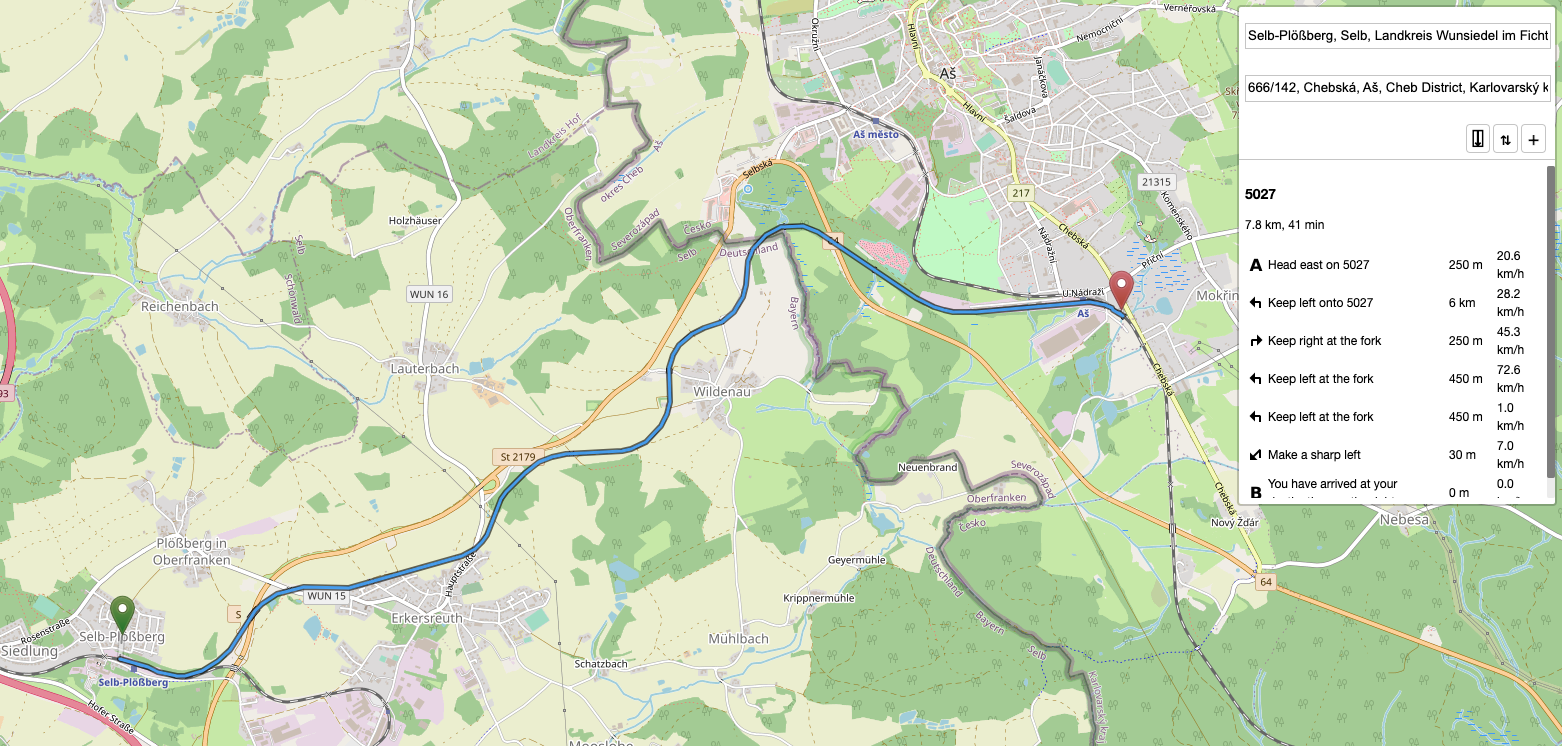 The tool allows you to directly link to a plotted route (click here for the route shown in the screenshot) and allows you to export geojson files that can then be imported into uMap. The total route-km calculation is also handy – as from this the average speed of a train can be calculated.
Wolfgang Cramer has also pointed me towards an alternative tool – railway routing in BRouter. As this uses the same underlying data as Pierre Beyssac's tool, which one you choose to use is a matter of personal preference. BRouter also has geojson and GPX export functions.
Cycle routes – Komoot
The only pay-to-use tool in my arsenal – I have the Komoot World Pack that costs €29.99. Komoot is then used to plan the cycle legs for my projects. Their planner looks like this – I prefer to plan my routes on a big screen in my web browser: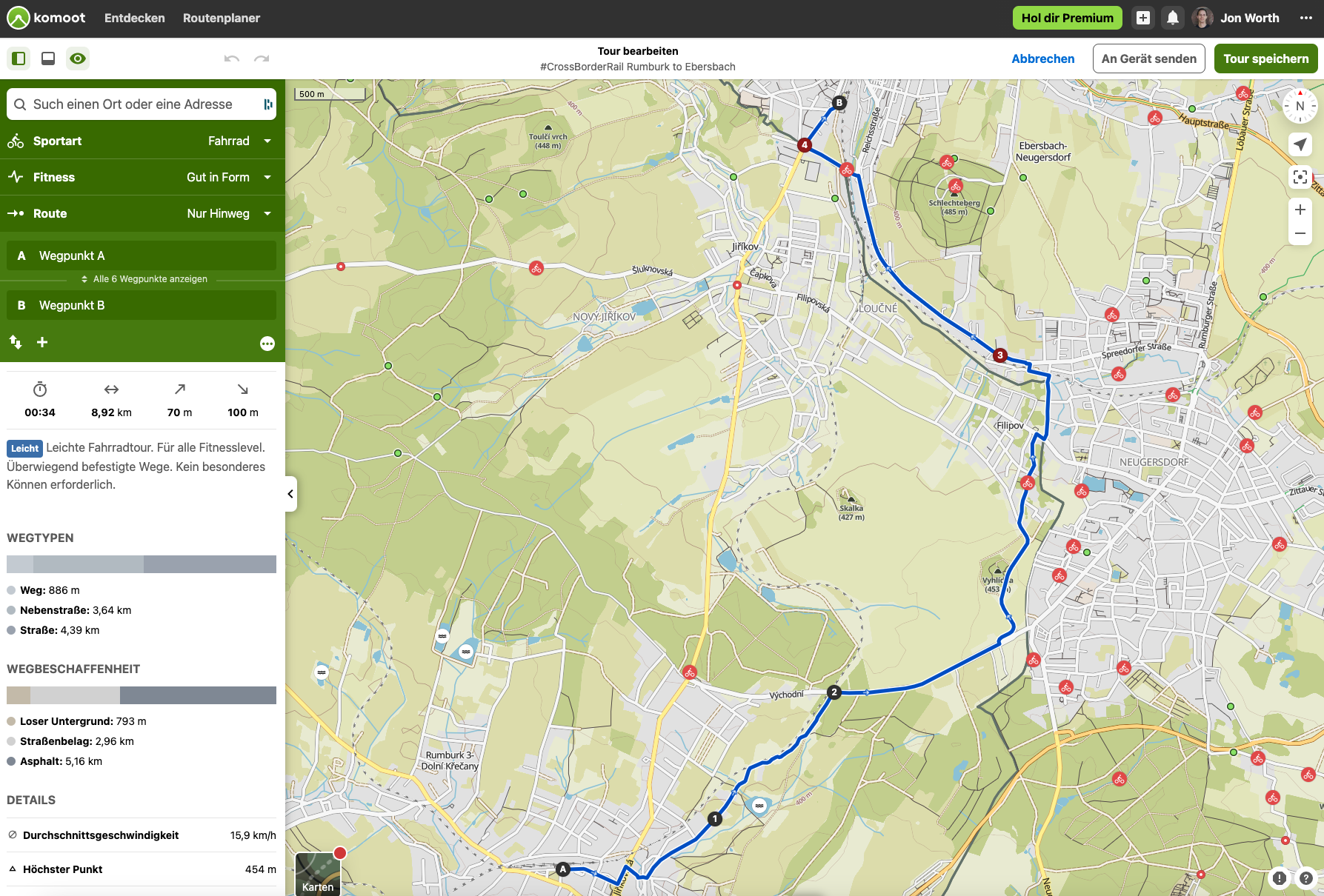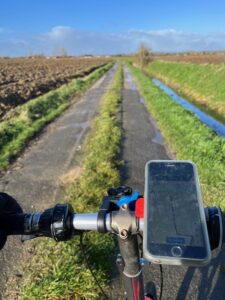 These routes are then synchronised with the Komoot app on the two phones I take along with me – an iPhone 13 that stays in my pocket, and an old iPhone 6s that is mounted on the handlebars of my bike – and gives me turn by turn navigation.
There are a few features of Komoot that I really appreciate. Generally the routes it proposes by default are sensible and logical – and more sensible than the cycle routes that Google Maps proposes. It also tells you in considerable detail the type of terrain you are going to encounter – asphalt or loose ground, and what type of road or path it is. This information allows you to then better manually adjust your routes – if you want to route off roads and onto quieter paths.
Each route you plan or complete on Komoot can then be set to be shared publicly (here's the Komoot page for the Rumburk-Ebersbach route shown above).
Komoot routes – if you have a paid plan – can also be exported as GPX files, and hence imported into uMap, although there can be a little headache with this. Sometimes I end up with multiple Komoot routes for one trip – for example if my phone ran out of battery and have to re-start it, and Komoot itself does not allow you to merge routes. This tool is a neat work-around to merge GPX files.
Road transport – Google Maps
I am not that bothered by the routes that buses or taxis take during my projects – Google Maps is enough to get a rough idea of distance for those legs. I then use Maps to GPX to get a GPX file from the Google Maps route that I can then import into uMap.
Maps for information – OpenRailwayMap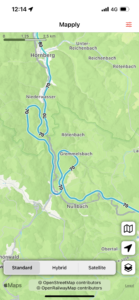 This is more for research purposes than for routing – OpenRailwayMap is a treasure trove of information. It shows you line speeds, electrification systems, track layouts – which is invaluable for finding out the details of the places I am investigating. The RailMap app (iOS, Android) uses OpenRailwayMap data, but presents it on your mobile – and can of course locate you with GPS.
So those are the tools I am using. Perhaps not the most efficient system, but one that I have by now refined to meet my needs.